Publication:
Análisis de espectros de alta resolución de estrellas frías en el infrarrojo cercano (Analysis of high resolution spectra of cool dwarfs in the near infrared)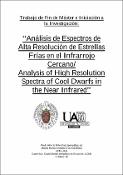 Authors
Advisors (or tutors)
Editors
Abstract
En este trabajo se presenta una colección de espectros de 17 estrellas de tipo solar (tipos desde G8V hasta M6.5V) obtenidos de la base de datos del observatorio W. M. Keck mediante el espectrógrafo echelle NIRSPEC (R ≈ 20000) con el fin de identificar líneas sensibles a la actividad estelar, gravedad y temperatura en el rango 1.2-1.8 μm. Para ello se redujeron los espectros crudos de cada estrella, se representaron por tipos espectrales y se identificaron las líneas que presentaban variaciones, la identificación de las líneas se realizó mediante el atlas infrarrojo de Arturo (Hinkle K., et al. 1995), en total se han identificado 225 líneas y se ha hecho el análisis de 21 de estas mediante métodos estadísticos paramétricos y no paramétricos. En este trabajo queda de manifiesto además la potencia actual de las bases de datos disponibles en astrofísica y el cambio que ha ocurrido en las últimas décadas en las que se ha pasado de hacer ciencia sólo si se disponía de tiempo de observación en algún telescopio a poder hacer ciencia haciendo uso exclusivo de las bases de datos de los observatorios actuales. [ABSTRACT] I present a sequence of high resolution spectra (R ≈ 20000) of 17 solar-type stars (G8V-M6.5V). The spectra were taken from KOA (Keck Observatory Archive) that contains raw spectra obtained with NIRSPEC. In this work I pretend to identify sensitive lines to stellar activity, gravity and temperature in the range 1.2-1.8 μm. In order to identify sensitive lines, I reduced the raw spectra of each star, later on they were plotted by spectral type and I made a list of the lines that presented some variation in the different spectral types, also I used the infrared atlas of Arcturus spectrum (Hinkle K., et al. 1995) to make the identification of the lines, 225 lines have been found as a result of this work and 21 of them have already been analyzed by parametric and non parametric statistical tests. On the other hand, the value of the virtual observatory is shown in this project as I have been able to make science only with the use of the available databases on astrophysics at present.
Description
Máster Interuniversitario en Astrofísica. Facultad de Ciencias Físicas. Curso 2010-2011
Citation
Hinkle, K. et al., 1995, PASP, 107, 1042 Kartunen, H. et al., "Fundamental Astronomy", 2007, 5º ed. Springer-Verlag Lyubchik, Y. et al., 2004, A&A, 416, 655 McLean I.S., et al. 1998, SPIE, 3354, 566 Meyer, M.R., et al., 1998, ApJ, 508, 397 Nguyen Le et al., 2011, arXiv:1108.1499v2 [astro-ph.SR] Pickles, A.J., et al., 1998, PASP, 110, 863 Prato, L., et al., 2002, manual de REDSPEC Quirrenbach, A., Amado, P.J., Mandel, H., Caballero, J.A., et al. 2010, SPIE, 7735, 773513 Rayner, J.T., et al., 2009, ApJS, 185, 289 Rousselot, P., et al., 2000, A&A, 354, 1134 Sharon, C., et al., 2010, AJ, 139, 646 Wallace, L., Hinkle, K, 1997, ApJS, 111, 445 Web de REDSPEC: http://www2.keck.hawaii.edu/inst/nirspec/redspec.html Web del KOA: https://koa.ipac.caltech.edu/cgi-bin/KOA/nph-KOAlogin Web de NIRSPEC: http://www2.keck.hawaii.edu/inst/nirspec/ Web de CARMENES: http://carmenes.caha.es/ Web de HIRES: http://www2.keck.hawaii.edu/inst/hires/ Web de CRIRES: http://www.eso.org/~rsiebenm/crires