Publication:
La cuota de reserva de puestos de trabajo en el empleo ordinario de las personas con discapacidad: ¿Un incumplimiento permanente?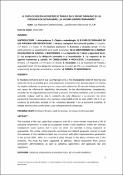 Authors
Advisors (or tutors)
Editors
Publisher
Ediciones Francis Lefebvre
Abstract
El mandato normativo por el que las empresas de 50 o más trabajadores deberán reservar una cuota del 2% de su plantilla para la incorporación de personas con discapacidad en el sistema de empleo ordinario, no parece que se cumpla adecuadamente. El presente trabajo pretende, con apoyo de información estadística, documentos de las administraciones competentes, acuerdos de las organizaciones económicas y sociales, convenios colectivos y de la normativa aplicable, indagar cuál ha sido la evolución de esta obligación y su relación con otros parámetros macroeconómicos, en el periodo comprendido entre los años 2009 y 2017, en un contexto de profundos cambios en las relaciones laborales y en la economía española. El trabajo presenta unas conclusiones y las correspondientes propuestas.
The mandate of the law states that companies with 50 or more workers must book a 2% of company employment in order to incorporate workers with disabilities within the ordinary employment quota system, but it does not seem this mandate is being respected as appropriate. This article, which presents conclusions and related proposals, intends to study the evolution of this mandate in Spain and its relation with other macroeconomic parameters in the period 2009 - 2017, in a context of deep changes in the labour relations and in the economy. The study has been supported by statistics, official documents from various competent administrations as well as collective agreements and applicable law and regulations.
Description
Este artículo está publicado en la revista Derecho de las Relaciones Laborales (ISSN 2387-1113), 2020, nº 2. Ediciones Francis Lefebvre
Collections