Publication:
Los acuerdos marco internacionales: sentando las bases de la negociación colectiva de ámbito supranacional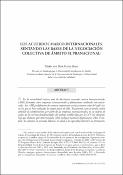 Authors
Advisors (or tutors)
Editors
Publisher
Universidad del País Vasco/Euskal Herriko Unibertsitatea: Servicio de Publicaciones
Abstract
En la actualidad existen más de doscientos acuerdos marco internacionales (AMI) firmados entre empresas transnacionales y federaciones sindicales internacionales. Los AMI proliferaron de manera importante en los primeros años del siglo XXI, en los que se han realizado la mayor parte de ellos. En general, estos acuerdos suelen abordar el cumplimiento, por parte de las empresas transnacionales, en su cadena de valor, de las normas fundamentales del trabajo establecidas por la OIT. No obstante, hay que destacar que determinados AMI incluyen también disposiciones sobre el empleo, los salarios, la jornada laboral, la salud y la seguridad laboral o la formación, lo que los aproximan a un convenio laboral. Sin embargo, no son convenios colectivos internacionales, puesto que no tienen un marco regulador. Las organizaciones sindicales han adoptado los AMI como formas imperfectas e incompletas de instrumentos de negociación colectiva y relaciones laborales transnacionales, como una pieza clave para allanar el camino y sentar las bases de la eventual institucionalización de éstas y de una mínima regulación del mercado laboral a escala internacional. Mientras, las empresas no los conciben como resultado de un ejercicio de relaciones laborales y los circunscriben al ámbito de la responsabilidad social empresarial, junto con los códigos éticos. Por otra parte, existe cierta polémica entre los juristas y los expertos al respecto, aunque la mayoría los etiquetan como normas de responsabilidad social empresarial.
There are currently more than two hundred international framework agreements (IFAs) in place, signed between transnational businesses and international trade union federations. IFAs spread considerably at the beginning of the 21st century, when most of them were reached. In general, these agreements deal with compliance by the transnational companies in their value chain with the basic labour standards set by the ILO. However, it should be stressed that certain IFAs also include provisions about employment, pay, working hours, industrial health and safety and training, bringing them closer to a labour agreement. Nevertheless, they are not international collective agreements, as they have no regulatory framework. Trade union organisations have adopted IFAs as imperfect, incomplete forms of tools for transnational collective bargaining and industrial relations, as a key part of smoothing the way and establishing the basis for their eventual institutionalisation and minimal regulation of the labour market at international level. Meanwhile, companies do not see them as the result of an industrial relations exercise and confine them to the sphere of corporate social responsibility, together with ethical codes. At the same time there is a certain amount of controversy over them among jurists and experts in the field, though most label them as standards for corporate social responsibility.
Gaur egun enpresa transnazionalen eta nazioarteko sindikatu-federazioen artean sinatutako Nazioarteko berrehun baino Akordio-Marko gehiago daude. Akordio horiek XXI. mendearen hasierako urteetan ugaritu ziren nagusiki, orduan egin baitziren gehienak. Oro har, Akordio horien helburua enpresa transnazionalek, euren balore katean, Lanaren Nazioarteko Erakundeak zehaztutako oinarrizko arauak betetzeaz arduratzen dira. Hala ere, zenbait Akordiok enplegu, soldata, lanaldia, osasuna eta segurtasuna edo heziketari buruzko xedapenak ere jasotzen dituzte, eta horrek gehiago hurbiltzen ditu hitzarmen kolektiboetara. Edonola, ez dira nazioarteko hitzarmen kolektiboak, ez baitute marko arautzailerik. Sindikatuek Akordioak negoziazio kolektibo eta lan harreman transnazionalerako baliabide burutugabe gisa onartu dituzte, eta beharbadako instituzionalizaziorako bidea errazteko eta oinarriak ezartzeko eta lan-merkatuak nazioartean gutxieneko arauketarako gako gisa. Bitartean, enpresek ez dituzte lan harremanen egikaritzaren emaitza gisa hartzen eta, kode etikoekin batera, enpresen gizarte erantzukizunaren eremura mugatzen dituzte. Bestalde, juristen eta jakitunen arteko nolabaiteko polemika dago, nahiz eta gehiengoek enpresaren gizarte erantzukizun gisa etiketatzen dituzten.
Collections