Publication:
«Transición española y justicia transicional: ¿qué papel juega el ordenamiento jurídico internacional en un proceso de transición? A propósito de la coherencia, buena fe y otros principios de derecho internacional postergados en la transición política de España»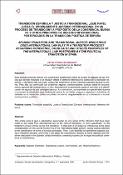 Authors
Advisors (or tutors)
Editors
Abstract
Este artículo pretende ofrecer una explicación satisfactoria sobre el porqué de algunas de las críticas que se han realizado o se realizan desde el derecho internacional acerca de la transición española, o de forma más concreta, acerca del tratamiento de los crímenes pasados durante la misma. Para ello, se comenzará por presentar algunas consideraciones básicas sobre el funcionamiento general del ordenamiento jurídico internacional, presentando especial atención a la identificación de algunos de sus principios básicos. A continuación, se examinará su operatividad durante un proceso de transición; para finalmente aplicar lo concluido a algunos aspectos e iniciativas diseñadas en la transición política española, incidiendo singularmente en su coherencia o incoherencia jurídica y política. ABSTRACT: This article aims to give a satisfactory explanation on why some of the criticisms that have been made or are made from international law on the Spanish transition, or more specifically, on the treatment of past crimes during this transition. To that end, it will begin by introducing some basic considerations on the overall functioning of the international legal system, paying special attention to the identification of some of its basic principles. Then, it will examine its operational capacity during a transition process, and finally it will apply the conclusions reached to some aspects and initiatives designed in the Spanish political transition, stressing in particular its legal and political coherence or incoherence.
Collections