Publication:
El modelo neoliberal de mercado laboral y la reproducción social de la fuerza de trabajo. El caso de la industria maquiladora de exportación en México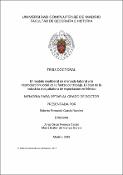 Files
Authors
Advisors (or tutors)
Editors
Publisher
Universidad Complutense de Madrid
Abstract
La transformación laboral y productiva ocurrida en las últimas décadas en el marco de la liberalización de la economía en México fue el resultado de la crisis del modelo de industrialización por sustitución de importaciones (ISI). El cambio se fundamentó en la aplicación de medidas neoliberales de transformación y especialización productiva para el incremento de las exportaciones, resultando en la flexibilización de las relaciones laborales y asignando al mercado mayor poder para regular los salarios y resolver los desequilibrios del mercado laboral (Moreno-Brid y Ros, 2004). El modelo de acumulación de la ISI estaba basado en la ampliación del mercado interno y su colapso generó una serie de políticas de ajuste exterior y provocó un vuelco a la producción para la exportación como respuesta a la reducción del mercado nacional. El primer intento de cambio a un modelo con perfil exportador fue el incremento de la venta de petróleo al extranjero; el segundo se basó en incentivar el crecimiento de las exportaciones manufactureras. Desde entonces, el principal impulsor de crecimiento económico en México ha sido la industria maquiladora de exportación (IME) (Guillen, 2013). En esta investigación se analiza el mercado de trabajo de la IME partiendo del esquema de la economía feminista de mercado laboral, donde se incluyen todas las fuentes de aprovisionamiento de las familias que definen el trabajo global de la economía. El objetivo es aclarar cómo la división del trabajo doméstico entre los géneros crea diferencias en la fuerza de trabajo y cómo el capital aprovecha estas características para mejorar el nivel de beneficio del sector maquilador y, por ende, delinear las nuevas condiciones laborales que genera el nuevo modelo de industrialización de corte neoliberal –tal como se lo describe en el capítulo I- y su impacto en el bienestar de las familias...
The labor and productive transformation that occurred in the last decades in the context of the liberalization of the economy in Mexico was the result of the crisis of the import substitution industrialization (ISI) model. The change was based on the application of neoliberal measures of transformation and productive specialization for the increase of exports, resulting in the flexibilization of labor relations and giving the market greater power to regulate wages and solve labor market imbalances (Moreno-Brid y Ros, 2004). The ISI accumulation model was based on the expansion of the domestic market and its collapse generated a series of foreign adjustment policies and caused a shift to export production in response to the reduction of the domestic market. The first attempt to change to a model with an exporting profile was the increase in the sale of oil abroad. The second was based on encouraging the growth of manufacturing exports. Since then, the main driver of economic growth in Mexico has been the export maquiladora industry (IME) (Guillen, 2013). This research analyzes the labor market of the IME starting from the schema of the feminist labor market economy, which includes all the sources of provisioning of families that define the global work of the economy. The objective is to clarify how the division of domestic labor between the genders creates differences in the labor force and how the capital takes advantage of these characteristics to improve the level of profit of the maquiladora sector and, therefore, to delineate the new working conditions that generates the new Neoliberal model of industrialization - as described in chapter I - and its impact on the well-being of families...
Description
Tesis inédita de la Universidad Complutense de Madrid, Facultad de Geografía e Historia, leída el 04-07-2017
Collections