Publication:
Herramienta de gestión de contadores hardware para Android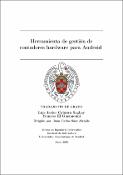 Files
Advisors (or tutors)
Editors
Abstract
PMCTrack es una herramienta de código abierto para Linux que permite monitorizar el rendimiento de las aplicaciones haciendo uso de los contadores hardware del procesador. Esta herramienta soporta la captura de métricas como el número de instrucciones por ciclo o la tasa de fallos de cache. El objetivo de este proyecto es portar PMCTrack al sistema operativo Android sobre plataformas que integran procesadores de ARM. Esto conlleva la realización de las siguientes tareas: (1) modificación de la variante del kernel Linux propia de Android para incluir las extensiones requeridas por el módulo del kernel de PMCTrack, (2) adaptación de las herramientas de modo usuario de PMCTrack, y (3) desarrollo de una aplicación Android que permita visualizar en tiempo real las medidas de los contadores recabadas para las distintas aplicaciones que están siendo monitorizadas. Para poner a prueba la adaptación de la herramienta PMCTrack al sistema operativo Android y mostrar la utilidad de nuestras aportaciones, se han llevado a cabo diversos casos de estudio empleando la placa de desarrollo Odroid XU4.
PMCTrack is an open-source tool for Linux that enables the gathering of performance data from applications using hardware performance counters. This tool makes it possible for the user to monitor high-level performance metrics, such as the number of instructions per cycle or the cache miss rate. The main goal of this project is to create a fully functional version of PMCTrack for the Android operating system running on platforms equipped with ARM processors. This comes down to the following three tasks: (1) modification of the variant of the Linux kernel for Android, to include the necessary extensions required by the PMCTrack's kernel module to function, (2) porting the user-level tools in PMCTrack to Android, and (3) development of an Android app that extends PMCTrack with capabilities of realtime visualization of the various high-level metrics monitored for an application using hardware counters. To demonstrate the effectiveness of our contributions and to test the functionality of the Android port for PMCTrack created in this project, we analyze several case studies by using the Odroid XU4 development board.
Description
Trabajo de Fin de Grado en Ingeniería Informática (Universidad Complutense, Facultad de Informática, curso 2015/2016)