Publication:
Los viajes geológicos de Juan Vilanova y Piera por Europa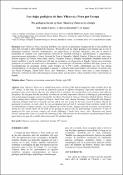 Advisors (or tutors)
Editors
Publisher
Sociedad Geológica de España.
Abstract
Juan Vilanova y Piera, personaje poliédrico, fue uno de los principales protagonistas de la vida científica del siglo XIX, llevando a cabo infinidad de proyectos. Destacables son sus viajes geológicos por Europa, que no sólo le permitieron mantener estrechas colaboraciones con especialistas de distintas disciplinas, sino que le dieron la posibilidad de recopilar una importantísima colección de muestras litológicas, paleontológicas y arqueológicas, mayoritariamente destinadas al Museo Nacional de Ciencias Naturales (Madrid, España). Vilanova visitó, entre otras, diversas regiones de Francia, Suiza, Italia, Austria, Alemania, Chequia y Hungría, recopilando abundante material de interés científico, lo que le resultará muy útil para sus posteriores investigaciones en España. Durante sus excursiones geológicas, en muchas ocasiones estuvo acompañado y asesorado por reconocidos científicos del lugar, gracias a las recomendaciones de personajes ilustres, como Mariano de la Paz Graells, manteniendo con éste una intensa correspondencia. En el campo de la geología en general y la paleontología en particular es de subrayar su estrecho trato con Alcide d'Orbigny, Claude-Émile Bayle, Jules Thurmann y Amanz Gressly, entre otros y, como resultado, la obtención y difusión de datos paleontológicos de gran interés que abrieron el debate científico sobre el darwinismo en España.
Juan Vilanova y Piera was a multifaceted person, and one of the main protagonists of the scientific life in the 19th century. At that time, he carried out numerous projects in different disciplines. Especially remarkable are his geological trips across Europe that not only allowed him to maintain close partnerships with scientists from different disciplines, but also gave him the possibility to collect an extremely important collection of lithological, paleontological and archaeological samples, mainly intended for the Museo Nacional de Ciencias Naturales (Madrid, Spain). Vilanova visited, among others, different regions of France, Switzerland, Italy, Austria, Germany, Czech Republic and Hungary, collecting abundant material of scientific interest, which was very useful for his later research in Spain. During his geological excursions, on many times he was accompanied and advised by renowned local scientists, thanks to the recommendations of famous people, such as Mariano de la Paz Graells, keeping with him an intense correspondence during his stay outside Spain. In the field of the geology in general and the paleontology in particular it must be emphasized his close personal contact with Alcide d'Orbigny, Claude-Emile Bayle, Jules Thurmann and Amanz Gressly, among others and, as a result, the obtaining of the collection and the dissemination of paleontological data of great interest to open the scientific discussion about Darwinism in Spain.
Collections