Publication:
Influencia del bloqueo del factor de necrosis tumoral-alfa sobre los niveles del factor reumatoide y anticuerpos anti-péptidos cíclicos citrulinados en pacientes con artritis reumatoide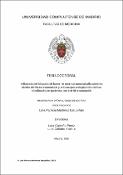 Files
Advisors (or tutors)
Editors
Publisher
Universidad Complutense de Madrid
Abstract
La respuesta clínica a los anti-TNF-α en los pacientes con Artritis Reumatoide (AR) es muy variable, en muchos casos se logra la remisión de la enfermedad, sin embargo una cantidad sustancial de pacientes no responden y persisten con actividad de la enfermedad o presentan recaídas a pesar del tratamiento. Los marcadores clínicos, radiológicos, serológicos y genéticos disponibles para el diagnóstico y seguimiento de la enfermedad tienen un valor limitado a la hora de predecir de manera precisa la respuesta al tratamiento y las recaídas. El factor reumatoide (FR) y los anticuerpos anti-péptidos cíclicos citrulinados (anti-PCC) son los principales marcadores biológicos en la AR y forman parte de los criterios de clasificación de la enfermedad, sin embargo, la relación entre los cambios en la concentración de estos autoanticuerpos y la respuesta a los anti-TNF- es variable en los diferentes estudios y no se aceptan como factores de predicción y de seguimiento de la respuesta a estos fármacos. Las concentraciones séricas del fármaco y los anticuerpos anti-fármaco (ADAb anti-drug antibodies) han sido estudiados como marcadores séricos relacionados con la actividad del enfermedad. Diferentes investigadores han demostrado que la pérdida de eficacia a los anti-TNF-α está asociada con el desarrollo de ADAb, que a su vez se correlaciona con la ausencia de concentraciones séricas adecuadas del fármaco...
Antagonists of the tumor necrosis factor (anti-TNF-α) have become the most widely used biological therapies for patients with Rheumatoid Arthritis (RA). However, despite an impressive overall clinical impact, more than one quarter of patients still have a poor response to these biological agents. There is a great need for predictive factors of response to anti-TNF-α since these drugs may have side effects and are costly. The rheumatoid factor (RF) and antibodies to citrullinated peptides (ACPA) have been studied by several groups as serological parameters to monitor disease activity in patients treated with anti-TNF-α. At the moment the relationship between these autoantibodies and the response to anti-TNF-α is not absolute and clearly defined. It is remarkable that none of these studies considered the free levels of the drug and did not differentiate between primary and secondary efficacy losses, due to the presence of anti-drug antibodies...
Description
Tesis inédita de la Universidad Complutense de Madrid, Facultad de Medicina, Departamento de Medicina, leída el 25/09/2015
Collections