Publication:
Implantación de la tecnología blockchain en infraestructura Serverless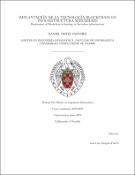 Authors
Advisors (or tutors)
Editors
Abstract
El objetivo de este proyecto es el de conseguir desarrollar una solución blockchain externalizando parte de su procesamiento en una plataforma de servicios en la nube. La solución final consiste en el desarrollo de un banco digital cuyo soporte es una red blockchain propia. Los usuarios podrán conectarse a dicha red mediante un cliente e interactuar con su cuenta del banco. Dentro del cliente los usuarios podrán comprobar el estado de su cuenta, del resto de cuentas existentes en el banco y realizar transferencias a cualquiera de ellas realizando una transacción por la blockchain. Tanto el flujo del programa del cliente como las operaciones y actualizaciones de la red blockchain y las cuentas del banco se lleva a cabo en el código local de cada cliente. Por otra parte, todo el control de las conexiones entre los distintos usuarios conectados se realiza mediante computación en la nube. Además, se pone a disposición, mediante un servicio de almacenamiento en la nube y de forma pública, los estados actuales tanto de las cuentas del banco como el histórico de la blockchain directamente para ser consumidas por cualquier aplicación. En este mismo almacenamiento también se guarda el un archivo de log de los movimientos de la última iteración de la blockchain que puede ser usado para su posterior visualización animada.
The objective of this project is to develop a blockchain solution by externalising part of its processing to a cloud services platform. The final solution consists in the development of a digital bank whose support is an own network blockchain. Users will be able to connect to this network through a client and interact with their bank account. Within the client, users will be able to check the status of their account, the rest of existing accounts in the bank and make transfers to any of them by making a transaction through the blockchain. Both the flow of the client's program and the operations and updates of the blockchain network and bank accounts are carried out in each client's local code. On the other hand, all the control of the connections between the different connected users is carried out through cloud computing. In addition, it is made available, through a cloud storage service and publicly, the current status of bank accounts and the history of the blockchain directly to be consumed by any application. In this same storage is also saved a log file of the movements of the last iteration of the blockchain that can be used for later animated visualization.
Description
Trabajo de Fin de Máster, Universidad Complutense, Facultad de Informática, Departamento de Arquitectura de Computadores y Automática, Curso 2018/2019