Publication:
Análisis del establecimiento de la longitud telomérica durante el desarrollo temprano en los mamíferos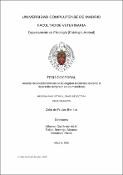 Files
Authors
Advisors (or tutors)
Editors
Publisher
Universidad Complutense de Madrid
Abstract
Los telómeros se encuentran en el foco de atención de muchas investigaciones por su papel en el mantenimiento de la integridad cromosómica y su implicación en procesos como el envejecimiento, el cáncer y la regeneración tisular. En ausencia de mecanismos compensatorios, el ADN telomérico sufre un acortamiento progresivo en cada división celular debido a la incapacidad de las ADN polimerasas convencionales de replicar el extremo 5' de los cromosomas. La telomerasa, una ribonucleoproteína con actividad transcriptasa inversa (componente TERT), compensa el acortamiento telomérico sintetizando las secuencias teloméricas de novo en el extremo 3' de los cromosomas utilizando como molde una molécula de ARN asociada (componente TERC). La mayoría de los tipos celulares presentan una actividad telomerasa limitada, acortándose los telómeros en cada división mitótica. Por ello, la actividad de la telomerasa y el acortamiento telomérico son factores limitantes en la esperanza de vida de los mamíferos, mientras que el acortamiento de los telómeros contribuye al envejecimiento limitando la regeneración tisular. Durante el desarrollo embrionario los telómeros se alargan, quedando determinadas las reservas teloméricas con las que contará el recién nacido. Por este motivo, el estudio de la dinámica de la elongación telómerica y su regulación durante el desarrollo embrionario temprano en mamíferos es de gran interés debido a las implicaciones que la longitud telomérica (LT) del recién nacido tiene en las etapas posteriores del desarrollo...
Telomeres focus the attention of numerous studies due to their roles in chromosome integrity maintenance and processes such as aging, cancer or tissue regeneration. In the absence of compensatory mechanisms, telomeric DNA suffers from progressive shortening on each cell division due to conventional polymerases being unable to replicate the 5́chromosome ends. Telomerase, a ribonucleoprotein with reverse transcriptase activity (TERT component) compensate telomere shortening by de novo synthesis of telomeric sequences on the 3́chromosome end, using an associated RNA molecule (TERC component) as template. Most cell types present a limited telomerase activity, so telomeres shorten in each mitotic cell division. For this reason, telomerase activity and telomere shortening restrict live expectancy in mammals, and telomere shortening promotes aging limiting tissue regeneration. Telomeres elongate during embryo development, which determines the telomere reserves in the newborn. Thus, the study of telomere elongation dynamics and its regulation during early embryo development in mammals holds a great interest, given to the consequences of the newborn telomere length (TL) on latter developmental stages...
Description
Tesis inédita de la Universidad Complutense de Madrid, Facultad de Veterinaria, Departamento de Fisiología (Fisiología Animal), leída el 15/12/2015
Collections