Publication:
Neural correlates of the social emotions guilt, shame and pride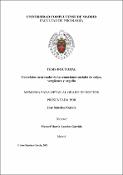 Files
Authors
Advisors (or tutors)
Editors
Publisher
Universidad Complutense de Madrid
Abstract
Brain research on emotions is generally focused on basic emotions such as anger, fear, sadness, joy, contempt, surprise and disgust. These basic emotions, are by far, the most well understood. They are easy to approach, presumably universal and linked to other primates and non human animals. These characteristics have permitted a broader search. Social emotions as guilt, shame, embarrasment and pride, nevertheless, remain largely unexplored, although our life is tainted with them,.Social emotions are different to basic ones. They require complex cognitive and evaluative aspects, and not only emotional. In experimental settings are usually studied stemming from imagining or remembering situations removed from social reality. Participants imagines him/herself acting in a precise situation, or tries to restore a memory, relatively recent, in which that emotion has been felt in a similar social context. This experimental setting is very different to social life, where social emotions emerge as a reaction to self predictions, precise contexts, standards and norms...
La investigación cerebral tradicional sobre las emociones se centra en las llamadas emociones básicas, siendo ira, miedo, tristeza, alegría y asco las más estudiadas. Su facilidad de estudio, ubicuidad y posible vínculo con otros primates y animales no humanos, han posibilitado una extensa investigación. Las emociones sociales, entre las que destacan principalmente la culpa, la vergüenza, el orgullo y el bochorno, a pesar de que nuestra vida está teñida de ellas, permanecen aún con muchísimos aspectos por explorar. Estas emociones sociales a diferencia de las básicas, implican aspectos cognitivos y evaluativos complejos, no solo emocionales. En el ámbito experimental se suelen elicitar a partir de situaciones imaginadas o recordadas, en los que el sujeto se visualiza a sí mismo respondiendo en una situación precisa, o trata de rescatar de su memoria una experiencia relativamente reciente en la que haya sentido esa emoción en un contexto social similar. Evidentemente este modo experimental está muy lejos de nuestra realidad social cotidiana en la que se las emociones sociales, surgen in situ, como respuesta a predicciones propias, contextos precisos, normas y acuerdos comunes, que toda vida social requiere...
Description
Tesis inédita de la Universidad Complutense de Madrid, Facultad de Psicología, Departamento de Psicobiología y Metodología de las Ciencias del Comportamiento, leída el 20-07-2021
Collections