Publication:
Los Estudios Críticos de Seguridad y la Escuela de París: un estudio sobre Frontex y la securitización de la migración en la UE.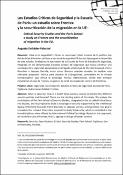 Authors
Advisors (or tutors)
Editors
Publisher
Universidad Nacional de La Plata. Instituto de Relaciones Internacionales
Abstract
¿Qué es la seguridad? ¿Cómo se construye? ¿Qué visiones de lo político hay detrás de las diferentes políticas y teorías de la seguridad? Estas son las preguntas de partida de este estudio. Analizamos la aportación de la Escuela de París de Estudios de Seguridad, integrada en los denominados Estudios Críticos de Seguridad, que busca construir una sociología de la seguridad apoyándose en el legado intelectual de Michelle Foucault, Pierre Bourdieu o Jacques Derrida, entre otros. Nuestro objetivo consiste en explicar esta relevante propuesta teórica para estudiar la (in)seguridad, concretada en la mirada transdisciplinar que ofrece la Sociología Política Internacional. Desde este enfoque estudiamos el caso de Frontex, la agencia de la UE encargada del control de fronteras.
What is security? How is it built? What political visions lie behind the different security policies and theories? These are the starting points of this study. We analyze the contribution of the Paris School of Security Studies, integrated in the so-called Critical Secu- rity Studies, and its proposal to build a sociology of security supported by the intellectual legacy of Michelle Foucault, Pierre Bourdieu or Jacques Derrida, among others. Our goal is to explain this relevant theoretical proposal to study (in)security, which is embodied in the transdisciplinary view offered by International Political Sociology. Based on this approach, we study the case of Frontex, the EU agency in charge of border control.
Collections