Publication:
Evaluación de la eficacia de nuevos antivíricos frente a genotipo 1 de vhc en combinación con Sofosbuvir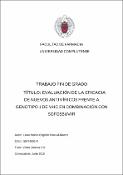 Advisors (or tutors)
Editors
Abstract
La prevalencia de personas infectadas con el Virus de la Hepatitis C (VHC) es de 170 millones en el mundo. La infección aguda es asintomática pero puede dar lugar a una hepatitis crónica que aumenta la probabilidad de desarrollar cirrosis y hepatocarcinoma. Se han descrito al menos 7 genotipos, siendo el 1 el más prevalente en España y el más resistente al tratamiento convencional. Es el responsable del 60-70% de las hepatitis crónicas en nuestro país. La evolución del tratamiento en los últimos años ha sido espectacular, obteniendo tasas de curación mayores. Por ello el objetivo de esta revisión es evaluar la eficacia de los antivíricos de acción directa en el tratamiento con biterapia SOF/SMV,SOF/LDV y SOF/DCV para el genotipo 1. Para ello se realizaron búsquedas bibliográficas en PubMed y ClinicalKey. Los resultados de los estudios se midieron en función de la tasa de respuesta viral sostenida (RVS), en función del tipo de paciente, estado patológico y tratamientos previos. La conclusión del estudio muestra que con las 3 opciones terapéuticas se obtienen tasas de RVS muy elevadas, próximas al 100%, mayores a la terapia convencional. La parte negativa es la el coste que supone para el sistema sanitario.
The prevalence of people infected with the Hepatitis C virus (HCV) is 170 million worldwide. Acute infection is asymptomatic but can lead to chronic hepatitis which increases the probability of developing cirrhosis and hepatocellular carcinoma. Least 7 genotypes have been described with, genotype 1 being the most prevalent in Spain and resistant to conventional treatment. It is responsible for 60-70% of chronic hepatitis in our country. The evolution of treatment in recent years has been remarkable, leading to higher cure rates. Therefore the aim of this review is to assess the efficacy of direct antiviral action in the treatment with combination therapies SOF / SMV, SOF / LDV and SOF / DCV in HCV genotype 1. Literature searches were performed in PubMed and ClinicalKey. The results of these studies were measured in function of the rate of sustained viral response (SVR), depending on the type of patient, disease stage and pretreatments. The conclusion of this study shows that the three therapeutic combinations achieved high SVR ratios, near to 100% thus more efficient than conventional therapy. The downside is the cost to the health system.