Publication:
Diversidad genética y establecimiento de prioridades en esquemas de conservación: ejemplo de aplicación en la raza de lidia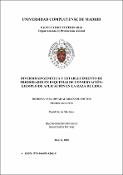 Files
Authors
Advisors (or tutors)
Editors
Publisher
Universidad Complutense de Madrid, Servicio de Publicaciones
Abstract
El trabajo expuesto en esta tesis profundiza en los aspectos matemáticos de la asignación de prioridades a un conjunto de unidades de conservación (poblaciones, líneas, razas, especies...) en el marco de programas de conservación de la diversidad genética. Los recursos a distribuir por parte de las administraciones son siempre limitados, y de ellos debe obtenerse el mayor rendimiento posible. En términos de diversidad, esto significa que deben repartirse proporcionalmente de acuerdo con la aportación que cada unidad haga a la diversidad global. El problema de la estimación de estas aportaciones no es trivial ni tiene una solución única. Conceptualmente existe además una disyuntiva sobre a qué dar más peso, si a las diferencias entre unidades o a la variabilidad dentro de ellas. Esta tesis es un trabajo fundamentalmente metodológico, de revisión en profundidad de dos formas distintas de abordar un mismo problema, con algunas aportaciones propias e igualmente metodológicas a ambas, y un ejemplo práctico en el que se describe cómo se aplicarían en un trabajo de campo.[ABSTRACT]The work in this thesis explores the mathematical aspects of priority settings in a set of conservation units (populations, lines, breeds, species...) in the framework of genetic diversity conservation programmes. Resources from governments and public organizations are always limited, and maximum profit must be obtained from them. In terms of diversity this means that they must be split proportionally, according to the share each unit has in the global diversity. However, the estimation of these contributions is not trivial nor has a unique solution. There is also a conceptual dichotomy regarding the importance of between units, as opposed to within units, variation. This thesis is basically a methodological work, of in-depth review of two different ways of approaching one same problem, with some original methodological contributions to both, and a real data example describing how to apply them in a field work.
Description
Tesis de la Universidad Complutense de Madrid, Facultad de Veterinaria, Departamento de Producción Animal, leída el 03-12-2008
Collections