Publication:
Evaluación de la situación sanitaria de las principales especies de cultivo acuícola en Papúa Nueva Guinea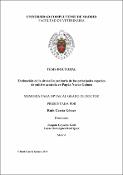 Files
Authors
Advisors (or tutors)
Editors
Publisher
Universidad Complutense de Madrid
Abstract
Desde hace mas de dos décadas se ha tratado de promover y de desarrollar el sector acuícola en la Región de Oceanía de manera económica y técnicamente viable. Numerosas agencias y programas internacionales, intergubernamentales y regionales han focalizados sus esfuerzos económicos y humanos en el desarrollo sostenible de este sub-sector dentro del sector pesquero en Oceanía, con resultados ciertamente limitados. La región de Oceanía sigue siendo la zona del mundo con el menor grado de desarrollo del sector acuícola del mundo, con algunas excepciones como Australia y Nueva Zelya, seguida de regiones también con bajo crecimiento, como Latinoamérica y África. El caso de Papúa Nueva Guinea es ciertamente especial dentro de la Región, puesto que no ha tenido un desarrollo comercial del sector acuícola muy marcado, aunque durante los últimos 10 años se han desarrollado una gran cantidad de granjas acuícolas de pequeña y mediana escala (más de 15000 registradas actualmente), y se han diversificado las especies acuáticas de cultivo notablemente (más de 7 especies de cultivo). Es el principal país productor acuícola del Pacífico Sur y el que tiene la ubicación geográfica más adecuada para enfocar cierta parte de su producción acuícola a las exportaciones, bien a otros países dentro de la Región de Oceanía o a países asiáticos. La Autoridad Nacional de Pesca de Papúa Nueva Guinea ha sido la agencia estatal que ha solicitado la realización de la evaluación del sector que ha conducido a la realización de esta Tesis...
The aquaculture sector has been strongly promoted y developed in a technically feasible, economically viable y long-term sustainable way in the Pacific Region for more than two decades. Numerous international, intergovernmental, regional agencies y programs have focused their economic y human efforts on the sustainable development of this sub-sector (within the fisheries sector) in the Pacific, with limited results y not many successful stories. The Oceania region remains the world's least developed region in the world's aquaculture sector, with some exceptions such as Australia y New Zealy, followed by regions with low growth rates such as Latin America y Africa. The case of Papua New Guinea is certainly special within the Region, since it has not had an extremely marked commercial development of the aquaculture sector, but a large number of small y medium-scale aquaculture farms have been developed over the last 10 years. Furthermore, farmed aquatic species have been diversified notably in the recent years, with more than 10 aquatic species being farmed nowadays. It is the main aquaculture producing country in the South Pacific y a geographically appropriate location to focus some of its aquaculture production on exports to other countries within the Oceania Region y/or to Asian countries. The National Fisheries Authority of Papua New Guinea has been the State Agency that has requested the evaluation of the aquaculture sector in the country, which has led to this Thesis.
Description
Tesis inédita de la Universidad Complutense de Madrid, Facultad de Veterinaria, Departamento de Sanidad Animal, leída el 03-07-2019
Collections