Publication:
Flora y vegetación leñosa de los bosques de los Andes en la región de Madidi, La Paz (Bolivia)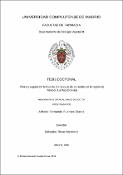 Files
Authors
Advisors (or tutors)
Editors
Publisher
Universidad Complutense de Madrid
Abstract
Introducción: La región del Madidi en el noroeste de Bolivia es una de las más biodiversas del mundo, por incluir un amplio rango altitudinal desde los 200 hasta más de 6000 m, y floras de los Andes y la Amazonía, dos de las regiones biogeográficas más diversas del mundo. Esta región comprende territorios de tres áreas protegidas de interés nacional (Madidi, Apolobamba y Pilón Lajas), superpuestas a comunidades indígenas, campesinas, y áreas de exploración hidrocarburífera, lo cual ha generado muchos conflictos, incrementando sustancialmente las amenazas sobre los ecosistemas forestales en los últimos años. La falta de información ecológica y florística-estructural detallada de la vegetación boscosa a lo largo del gradiente altitudinal, no ha permitido una gestión eficaz de los mismos en la región. Además, información sobre la ecología de especies de los bosques, fundamental para efectuar actividades de manejo y/o conservación en la región, es escasa o vaga. Objetivos: Por tanto, se abordó el presente estudio en la región del Madidi para profundizar en el conocimiento de la vegetación boscosa, y de sus especies. Tratando de delimitar unidades discretas de vegetación, relacionando la composición florística con factores ambientales. Para lo cual se aprovechó la disponibilidad de un conjunto de datos de inventarios exhaustivos, florístico-estructurales, provenientes de parcelas forestales temporales, que cuentan con sus respectivos datos ambientales. Materiales y métodos: El juego de datos analizado comprende 415 parcelas de 0.1 ha, distribuidas entre 250 y 4350 m de altitud, que cuentan con información taxonómica y estructural de 2280 taxones de plantas leñosas. Empleamos en total 32 variables abióticas de cada parcela, de las cuales 18 son edáficas, 11 bioclimáticas basadas en parámetros de temperatura de WorldClim, y tres variables topográficas. Se descartaron las variables bioclimáticas de WorldClim basadas en parámetros de precipitación por mostrarse demasiado discordantes con la vegetación observada en campo. Para cada parcela se calcularon 10 variables bióticas, que son el número de especies, índice de Shannon Wiener, altura media de los individuos, área basal total, número de individuos, ratio individuos-tallos, número de lianas, número de palmeras, número de helechos arbóreos, y número de cactus; por una parte para establecer diferencias estructurales entre los grupos, y por otra para evaluar su utilidad como subrogados de condiciones ambientales particulares...
Introduction: The Madidi region of Northwestern Bolivia's is one of the most biodiverse areas of the World, it include a wide elevational range from 200 to over 6000 m, and representation of the Andean and Amazonian floras, two of the World's most diverse biogeographic regions. It comprises territories of Apolobamba, Madidi and Pilón Lajas, protected areas of particular national interest, overlaps with indigenous communities, agricultural zones, and areas of hydrocarbon exploration, which has generated many conflicts, and substantially increased the threats to forest ecosystems in recent years. The lack of ecological and floristic-structural details of the forest vegetation along the elevational gradient, has not allowed an effective management of the region. In addition, information on the ecology of forest species, essential to carry out activities of management and/or conservation in the region, is insufficient or lacking. Objectives: The present study in the Madidi region therefore addresses this issue and aim to deepen the knowledge of the forest vegetation, and its species. To delineate discrete vegetation units, based on the relationship between environmental factors and floristic composition, we took advantage of the availability of a floristicstructural dataset, composed of temporary forest inventories plots with their respective environmental data. Materials and methods: The analyzed data set comprises 415 plots of 0.1 ha, distributed between 250 and 4350 m elevation, which have structural and taxonomic information of 2280 woody plants taxa. We employ a total of 32 abiotic variables from each plot, of which 18 are edaphic, 11 topographic variables based on WorldClim temperature parameters, and three bioclimatic variables. WorldClim's parameters on bioclimatic precipitations were considered too discordant with the vegetation observed in field and were therefore discarded. For each plot we calculated 10 biotic variables, which were the number of species, index of Shannon Wiener, average height of individuals, total basal area, number of individuals, the ratio between individuals and stems, number of lianas, palms, tree ferns, and cacti. This was done to establish 1) structural differences between plot groups, and 2) to evaluate its usefulness as subrogated in particular environmental conditions...
Description
Tesis inédita de la Universidad Complutense de Madrid, Facultad de Farmacia, Departamento de Biología Vegetal II, leída el 13/01/2016
Collections