Publication:
When quantum state tomography benefits from willful ignorance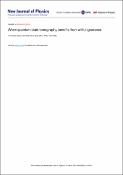 Advisors (or tutors)
Editors
Abstract
We show that quantum state tomography with perfect knowledge of the measurement apparatus proves to be, in some instances, inferior to strategies discarding all information about the measurement at hand, as in the case of data pattern tomography. In those scenarios, the larger uncertainty about the measurement is traded for the smaller uncertainty about the reconstructed signal. This effect is more pronounced for minimal or nearly minimal informationally complete measurement settings, which are of utmost practical importance.
Description
© 2021 The Author(s) This work was supported by the European Union's Horizon 2020 research and innovation programmeunder the QuantERA programme through the project ApresSF and from the EU Grant 899587 (ProjectStormytune), the Grant Agency of the Czech Republic (Grant 18-04291S), The Palacky University GrantIGA_PrF_2020_004 and the Spanish Ministerio de Ciencia e Innovacion (Grant PGC2018-099183-B-I00).
Collections