Publication:
Consumo intensivo de alcohol, funcionamiento ejecutivo y rendimiento académico en adolescentes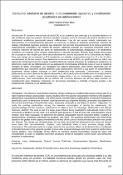 Authors
Advisors (or tutors)
Editors
Abstract
Introducción: El consumo intensivo de alcohol (CIA) es un problema que preocupa a la sociedad debido a su alta incidencia entre los jóvenes. Diversos estudios muestran como el consumo de alcohol interfiere en el rendimiento académico provocando peores calificaciones. Una de las causas estaría relacionada con alternaciones en el funcionamiento ejecutivo, en concreto, en tareas de inhibición conductual, memoria de trabajo y flexibilidad cognitiva, procesos que dependen del correcto funcionamiento de la corteza prefrontal, especialmente vulnerable a los efectos del alcohol. Objetivos: Estudiar las relaciones existentes entre el consumo intensivo de alcohol por parte de adolescentes, la sintomatología disejecutiva y el rendimiento académico en materias como Lengua, Matemáticas y Ciencias Naturales. Método: Este trabajo forma parte de un proyecto más amplio que viene desarrollándose en centros educativos de la Comunidad de Madrid. Para este trabajo se ha evaluado a 913 estudiantes con edades comprendidas entre los 12 y los 15 años, escolarizados en dichos centros. Para determinar el consumo de alcohol y su perfil ejecutivo se utilizó una batería de cuestionarios que los sujetos cumplimentaron de manera individual. El rendimiento académico se determinó a partir de las calificaciones en las asignaturas mencionadas al final del curso en que se realizó la recogida de datos. Resultados: Los resultados son todavía preliminares, pero hemos observado que los adolescentes que consumen alcohol obtienen unas calificaciones inferiores a sus pares no consumidores. Igualmente, dichos sujetos muestran un perfil disejecutivo más acentuado. Conclusiones: La corteza prefrontal es un centro diana de los efectos neurotóxicos del alcohol y esto se manifiesta en el comportamiento cotidiano de los sujetos (mayor sintomatología disejecutiva) y en su rendimiento académico (peores calificaciones). Este conocimiento de los efectos del consumo intensivo de alcohol debe tomarse en consideración para establecer programas de prevención orientados a combatir el fracaso escolar y los problemas de conducta en los adolescentes.
Introduction: The intensive consumption of alcohol (Binge Drinking) is a problem that worries society due to its high incidence among young people. Several studies show how alcohol consumption interferes with academic performance, causing worse grades. One of the causes may be related to alternations in executive functioning, specifically, tasks of behavioral inhibition, working memory and cognitive flexibility, processes that depend on the correct functioning of the prefrontal cortex, especially vulnerable to the effects of alcohol. Objectives: To study the existing relationships among the intensive consumption of alcohol by adolescents, the symptomatology and the academic performance in subjects such as Language, Mathematics and Natural Sciences. Method: This work is part of a larger project that is being developed in educational centers of the Community of Madrid. For this work, 913 students aged between 12 and 15 years old, and educated in these centers, have been evaluated. To determine the alcohol consumption and its executive profile, a battery of questionnaires, completed individually by students, was used. The academic performance was determined based on the grades in the subjects mentioned at the end of the course in which the data collection was carried out. Results: The results are still preliminary, but we have observed that adolescents who consume alcohol score lower than non-consumers. Likewise, such individuals show a more accented design profile. Conclusions: The prefrontal cortex is a target center for the neurotoxic effects of alcohol and this is manifested in the daily behavior of the subjects (greater dysexecutive symptomatology) and in their academic performance (worse grades). This knowledge of the effects of intensive alcohol consumption should be taken into consideration in order to establish prevention programs aimed at combating school failure and behavioral problems in adolescents.