Publication:
Braquiterapia de baja tasa como monoterapia en el tratamiento del cáncer de próstata de bajo riesgo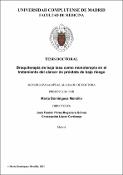 Files
Authors
Advisors (or tutors)
Editors
Publisher
Universidad Complutense de Madrid
Abstract
La braquiterapia de baja tasa de dosis (LDR) es un tratamiento aceptado, efectivo y con pocos efectos secundarios a nivel local, se utiliza como monoterapia en pacientes con cáncer de próstata de bajo (CP) riesgo. Hay datos sólidos que muestran tasas de control local y supervivencia similares a los de otras técnicas como la radioterapia externa o la cirugía radical con menor riesgo de efectos secundarios genitourinarios y gastrointestinales. OBJETIVOS: El objetivo de este trabajo es analizar 245 pacientes tratados con esta técnica en el servicio de Oncología Radioterápica del Hospital Gómez Ulla, desde el año 2004 al 2016 evaluaremos la relación de los parámetros dosimétricos con la recidiva bioquímica y local así como la toxicidad genitourinaria y gastrointestinal derivada de la técnica.Discutiremos si los resultados obtenidos son equiparables a los reportados en la literatura...
Low dose rate brachytherapy (LDR) is an accepted treatment, effective and with few side effects at the local level, which is used as monotherapy in patients with low-risk prostate cancer. There are solid data that show local control and survival rates similar to those of other techniques such as external radiotherapy or radical surgery, with a lower risk of genitourinary and gastrointestinal side effects. OBJECTIVES: The aim of this work is to analyze 245 patients treated with this technique in the Radiotherapy Oncology Service of Gomez Ulla Hospital, from 2004 to 2016, we will eval-uate the relationship of the dosimetric parameters with the biochemical and local failure as well as the genitourinary and gastrointestinal toxicity derived from the technique. We will discuss if the results obtained are comparable to those reported in literature...
Description
Tesis inédita de la Universidad Complutense de Madrid, Facultad de Medicina, Departamento de Medicina, leída el 26/02/2021
Collections