Publication:
Modelo de excelencia de la unidad de ensayos clínicos del servicio de farmacia hospitalaria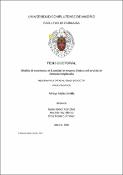 Files
Authors
Advisors (or tutors)
Editors
Publisher
Universidad Complutense de Madrid
Abstract
Un ensayo clínico es toda investigación efectuada en seres humanos con el fin de determinar la eficacia y seguridad de un medicamento en investigación. Su desarrollo, en los Hospitales, presenta un circuito complejo. Por un lado, requiere implicar a un alto número de profesionales, que deben coordinarse entre sí, y por el otro, los medicamentos en investigación son cada vez más sofisticados y requieren de condiciones de almacenamiento, monitorización y preparación cada vez más estrictos. En los Hospitales con elevada actividad investigadora, los ensayos clínicos no escapan a los errores de medicación.Los Servicios de Farmacia Hospitalaria (SFH) juegan un papel importante en la participación de los ensayos clínicos con medicamentos. Por ello, deben disponer de profesionales cualificados y de una verdadera Unidad de Ensayos Clínicos, ubicada en una zona diferenciada, y que cumpla con unos requisitos mínimos para el almacenamiento seguro de las Muestras Para Investigación (MPI).En el ámbito hospitalario, la calidad se utiliza como instrumento global de gestión enfocado a la mejora continua de todas las actividades hospitalarias y todos los procesos que se realizan. Los modelos de calidad utilizados, las normas de la serie ISO 9000 y la acreditación hospitalaria por la Joint Commission on Accreditation of Healthcare Organizations (JCAHO), consideran la metodología de análisis modal de fallos y efectos (AMFE) como método de elección para identificar los fallos dentro de un proceso y lo recomiendan para obtener la seguridad de los procesos sanitarios. El Modelo Europeo para la gestión de la calidad (EFQM) propone la autoevaluación como un método sistemático para conocer los puntos fuertes y las áreas de posible mejora, así como reconocer las carencias más significativas, con el fin de priorizar objetivos y poner en marcha planes de acción con los que fortalecerse...
Clinical trials are research studies that explore whether a drug is safe and effective for humans. Their development in hospitals has a complex circuit. On the one hand, it requires involving a high number of professionals, who must coordinate with each other, and on the other hand, the research drugs are increasingly sophisticated and require increasingly stringent storage, monitoring and preparation conditions. In hospitals with high research activity, clinical trials do not escape medication errors. Pharmacy Department (PD) plays an important role in the involvement of clinical trials with drugs. Therefore, they must have qualified professionals and a real clinical trial area, located in a differentiated area, and which meets minimum requirements for safe storage of Investigational Medicinal Products (IMP's). The quality is used as a global management tool focused on the continuous improvement of all the hospital activities and procedures. The quality management systems used are the ISO 9000 standard and the Joint Commission on Accreditation of Healthcare Organizations (JCAHO). Both consider Failure mode and effects analysis (FMEA) as a method of choice to identify potential failure modes within the processes and to obtain the safety of health procedures. The Model of the European Foundation for Quality Management (EFQM) is a practical instrument based on the self-assessment, with the identification of strengths and areas for improvement, in order to prioritize objectives and implement action plans with which to strengthen...
Description
Tesis de la Universidad Complutense de Madrid, Facultad de Farmacia, leída el 23/11/2017
Collections