Publication:
Medieval Music through the information technology looking glass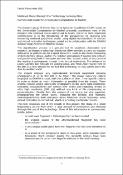 Advisors (or tutors)
Editors
Publisher
Akademie der Wissenschaften
Citation
Aubry, Pierre: Iter Hispanicum. Notices et extraits de manuscrits de musique ancienne conservés dans les bibliothèques d'Espagne, Paris: Paul Geuthner 1908. Gutiérrez, Carmen Julia & Catalunya, David: "Arqueología virtual de manuscritos. Tecnología digital avanzada aplicada al estudio de manuscritos medievales", Cuadernos de Música Española e Iberoamericana 20, 2010, 37-48. Gutiérrez, Carmen Julia & Catalunya, David: "New 14th-Century Fragments Recently Discovered in Mundó's Archive", paper read at Med & Ren Conference, Barcelona 2011. Manuale pro Benedictionibus et Processionibus, Tournai 1906. Meyer, Wilhelm: Die Preces der mozarabischen Liturgie, Berlin: Weidmann 1914. Mundó, Anscari M.; "La datación de los códices litúrgicos visigóticos toledanos", Hispania Sacra 18, 1965, 1-25. Pinell, Jordi: "Los textos de la antigua liturgia hispánica. Fuentes para su estudio", Estudios sobre la música mozárabe, Toledo: Publicaciones del Instituto Provincial de Investigaciones y Estudios Toledanos 1965, 109-164. Pinell, Jordi: Liturgia Hispánica, Barcelona: Centre de Pastoral Litúrgica 1998. Prado, Germán & Rojo, Casiano: El canto mozárabe, Barcelona: Diputación 1928. Rodríguez Suso, Carmen: "L'Évolution modale dans les antiennes de l'ordo wisigotique pour la consecration de l'autel", Etudes Gregoriennes 26, 1998, 173-204. Randel, Don M.: An Index of the Chant of the Mozarabic Rite, Princeton NJ: Princeton University Press 1973. Rubio Sadia, Juan Pablo: La recepción del rito francorromano en Castilla (ss.XI-XII), Città del Vaticano: Librería Editrice Vaticana 2011.
Collections