Publication:
Estudio cristalográfico de proteínas implicadas en la ruta de los inositoles polifosfatados y su relación con el ARN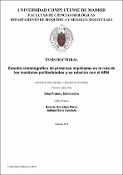 Authors
Editors
Publisher
Universidad Complutense de Madrid
Abstract
Los inositoles polifosfatados (IPs) son un amplio y diverso grupo de pequeñas moléculas solubles que desempeñan papeles biológicos en señalización celular y procesos metabólicos. La ruta de los IPs comienza con la síntesis de inositol 1,4,5-trisfosfato (IP3), un segundo mensajero muy conocido que promueve la liberación de Ca2+ de los sistemas de almacenamiento y regula su homeostasis. El precursor de IP3 es el inositol lipídico PIP2, el cual a su vez es sustrato de la enzima PI3K, uno de los principales efectores de la proteína reguladora de señalización celular RAS. Por tanto, RAS/PI3K participan en la regulación de los niveles de IP3. A partir del IP3, se forman el resto de IPs mediante la acción de diferentes quinasas y fosfatasas. Esta tesis se centra en el estudio de las inositol polifosfato quinasas (IPKs) de mamíferos, que regulan los niveles de IPs mediante la fosforilación del anillo de inositol en sus diferentes posiciones. En la última década, se ha puesto de manifiesto que muchos papeles de los IPs y las IPKs están directamente relacionados con eventos del ARN y con proteínas que lo reconocen. Este trabajo también se ha centrado en el análisis de una proteína implicada en la terminación de la transcripción en levaduras y a su vez relacionada con la señalización por RAS y otras rutas de IPs/IPKs. En cuanto a la biología estructural de las IPKs, se han estudiado dos familias diferentes de IPKs mediante Cristalografía de rayos X: la familia de inositol 1,3,4,5,6-pentaquisfosfato 2-quinasa (IP5 2-K) y la familia de inositol 1,2,3,4,5,6-hexaquisfosfato 6-quinasa (IP6K)...
The inositol polyphosphates (IPs) are a diverse group of small soluble molecules that play biological roles in metabolic, cellular and signalling processes. The IPs signalling pathway starts with the synthesis of inositol 1,4,5-triphosohate (IP3), a well known second messenger that promotes Ca2+ release from intracellular stores and regulates Ca2+ homoeostasis. The IP3 precursor is PIP2, a lipid inositol substrate of PI3K, which is a main RAS effector that orchestrates cell signalling. Therefore, the complex RAS/PI3K participates in IP3 levels regulation. From IP3, other IPs are formed successively by the action of different kinases and phosphatases. The main goal of this work is focused in the study of the mammal inositol polyphosphate kinases or IPKs that regulate IPs levels by phosphorylating the inositol ring at its different positions. In the last decade, it has become evident that main roles of IPs and IPKs are directly related with RNA events. In particular, this work has also been focused on a protein involved in transcription termination in yeasts that is related to RAS signalling and presents cross-talks with IPs/IPKs-participating routes. Respect to the IPKs, two different IPKs have been studied by X-ray Crystallography: inositol 1,3,4,5,6pentakisphosphate 2-kinase (IP5 2-K) and inositol 1,2,3,4,5,6-hexakisphosphate-kinase (IP6K)...
Description
Tesis de la Universidad Complutense de Madrid, Facultad de Ciencias Biológicas, Departamento de Bioquímica y Biología Molecular I, leída el 12/01/2018
Collections