Publication:
Las cooperativas agrarias en la provincia de Misiones (Argentina). Efectos de la globalización en sus estrategias organizacionales y productivas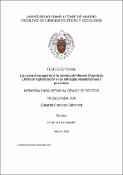 Files
Authors
Advisors (or tutors)
Editors
Publisher
Universidad Complutense de Madrid
Abstract
Durante las últimas décadas el proceso de globalización tuvo como característica distintiva la difusión mundial de políticas que respondían a un modelo económico neoliberal, a las que las economías capitalistas periféricas se someterían, condicionadas por la necesidad de responder a sus obligaciones internacionales. Alentadas por los organismos financieros, las medidas impulsadas determinaron que numerosas sociedades nacionales –los países latinoamericanos son un buen ejemplo de ello– redujeran las funciones del Estado, privatizaran las empresas públicas, desregularan y abrieran sus mercados al comercio internacional, además de habilitar el acceso a fuentes alternativas de financiamiento, favoreciendo un crecimiento acelerado de sus economías. Como contrapartida, el debilitamiento del Estado en su función reguladora resultó determinante para que estas políticas generaran concentración económica, desocupación, exclusión social y pobreza, postergando de manera dramática las aspiraciones y necesidades de sectores mayoritarios de la población.Para enfrentar la crisis generada por las condiciones del nuevo modelo económico instaurado, aquellos que aparecían desfavorecidos en la distribución de los recursos y oportunidades acudieron en forma recurrente a las diferentes formas de organización que se reconocen como de la economía social. Entre ellas, el movimiento cooperativista desempeñó un rol fundamental. En este proceso de adaptación a las exigencias de mayor competitividad y calidad de su producción, las cooperativas –que son al mismo tiempo asociaciones de cooperación y empresas de competencia– tuvieron que desarrollar estrategias que les permitieran seguir desempeñando su función, transformaciones estructurales que se manifestaron en los objetivos a priorizar en su accionar (principios cooperativos o fines institucionales) e impactaron de manera elocuente en sus prácticas organizacionales y productivas...
During the last decades the process of globalization has had as its distinctive feature the worldwide spread of policies conforming to a neoliberal economic model to which peripheral capitalist economies would submit to, conditioned by the need to meet their international liabilities. Encouraged by financial institutions, the measures promoted determined that many national states -among which, many Latin American countries- would reduce state functions, privatize public enterprises, deregulate and open their markets to international trade, thus enabling access to alternative financial sources to favor an accelerated growth of their economies. Nonetheless, the weakening of States' regulatory role was decisive in the sense that these policies generated economic concentration, unemployment, social exclusion and poverty, dramatically deferring the aspirations and needs of major sectors of their population.In order to address the critical effects of the new economic model established, those left behind in the distribution of resources and opportunities resorted to alternative ways of organization, namely, the 'social economy enterprises'. Among them, the cooperative system played a key role. In the process of adapting to the demands for greater competitiveness and production quality, cooperative societies -which are both cooperative associations as well as competency companies- were soon forced to develop new structural strategies to keep up with their usual role, thus compromising their principles (cooperative drive and institucional goals) and exerting high impact in their organizational and productive practices.
Description
Tesis de la Universidad Complutense de Madrid, Facultad de Ciencias Políticas y Sociología, leída el 05-04-2017
Collections