Publication:
La nobleza en los textos epistolares y literarios de José de Cadalso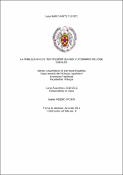 Authors
Advisors (or tutors)
Editors
Abstract
A través de diversos textos literarios y epistolares de José Cadalso, se analiza la imagen de la nobleza transmitida por éste en relación con el contexto histórico, político, social y económico en el que vivió el autor; considerado uno de los escritores más críticos y radicales con el sector nobiliario. Mediante el estudio de su producción, del discurso y de la fundamentación de sus juicios (especialmente negativos) referidos al alto estamento, se demuestra la relación existente entre el concepto (favorable o desfavorable) que ofrece Cadalso de los nobles y su influencia en la consecución del proyecto ilustrado. Aunque de forma multidisciplinar se identifica la obra del escritor como una de las más críticas contra la nobleza, con este trabajo queda demostrada su capacidad para conducir al lector en sus valoraciones, sin hacerlas explícitas. Throughout Cadalso's different literary and epistolary texts it is analysed the image of the nobility he passes on regarding the historical, political, social and economic context the author lived in, being considered this way one of the most radical and critical authors of the peerage. By means of studying his literary output, his speech and the basis of his opinions –especially the negative ones- concerning the First Estate it is proved the existing relationship between Cadalso's either favourable or unfavourable concept of the nobility and his influence in the achievement of the enlightening project. Although in a multidisciplinary way the author's work is identified as one of the most critical regarding the nobility, this paper proves his ability to lead the reader to his evaluations without making them explicit.
Description
Texto completo retirado por indicación de la autora con fecha 34 de marzo de 2017