Publication:
Cristianismo auténtico y cristianismo adulterado: la crítica de Nietzsche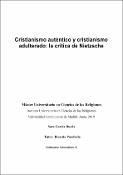 Authors
Advisors (or tutors)
Editors
Abstract
Con este trabajo profundizaremos en la crítica que realiza Nietzsche al cristianismo y a su moral. Para ello analizaremos las diferentes influencias y fuentes de las que bebió el pensador germano para forjarse su concepto tan sui generis y unidireccional de Jesús de Nazaret. A continuación, presentaremos un modelo de cristianismo que en la actualidad pervive, que bien podríamos decir que, más que ser fiel a las ideas genuinas del Evangelio, representa una clara adulteración del mismo y podría reflejar la validez de la crítica de Nietzsche a la religión cristiana. Finalmente, expondremos lo que a nuestro parecer constituye la esencia del cristianismo genuino y su repercusión en las cogniciones y las conductas del ser humano tanto a nivel personal como social.
We will deepen in Nietzsche's criticism of Christianity and its morality through this work. To attain this goal, we will try to analyse the different influences and authors from which the German philosopher was influenced to shape his sui generis and reductive concept of Jesus of Nazareth. Next, we will aim to present a model of Christianity that survives nowadays, that we could very well say that, rather than being faithful to the genuine ideas of the Gospel it is a clear adulteration of it and may reflect the validity of Nietzsche's criticism of Christianity. Finally, we will present what we regard as the essence of the genuine Christianity and its repercussion in the human being' cognition and behavior both individually and socially.