Publication:
Estudio de los patrones de montandad de Democricetodon laterti (Schaub 1925) en el yacimiento Mioceno de Somosaguas Sur (Pozuelo de Alarcón, Madrid)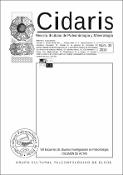 Advisors (or tutors)
Editors
Publisher
Grupo Cultural Paleontológico de Elche
Abstract
Se estudió el patrón de mortandad del roedor Democricetodon larteti en el yacimiento de Somosaguas Sur (Mioceno medio) en función del grado de desgaste de sus terceros molares. Los resultados indican una gran abundancia de elementos muy poco desgastados (individuos juveniles) dentro de la población de estudio. Estos resultados no se ajustan a los patrones obtenidos en otros trabajos con poblaciones de roedores actuales ni con otros yacimientos. En cambio, se muestran claramente coherentes con los datos obtenidos para los macromamíferos de Somosaguas donde también existe una elevada mortandad de individuos juveniles asociada a eventos de gran aridez. [ABSTRACT] We studied the pattern of the age of death for Democricetodon larteti, a rodent species from the Somosaguas South fossil site (middle Miocene), in terms of wear degree of its third molars. The results indicate a great abundance of elements with scarce tooth wear (young individuals) in our study population. These results do not fi t in the pattern obtained in other works with modern rodents, or in other fossil sites. However, they are manifestly consistent with the data obtained in previous works with macromammals from Somosaguas, where the existence of high rate of death of young individuals is associated to events of high aridity.
Collections