Publication:
Tratamiento odontológico bajo anestesia general en personas con discapacidad intelectual severa en el Hospital General Universitario Gregorio Marañón: bestudio retrospectivo de 10 años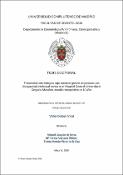 Files
Authors
Advisors (or tutors)
Editors
Publisher
Universidad Complutense de Madrid
Abstract
En las últimas décadas hemos asistido a un gran avance en el conocimiento y tratamiento de las personas con discapacidad intelectual. Existe una elevada demanda de tratamiento bucodental en esta población debido a la dificultad para su atención odontológica, así como para el mantenimiento de una adecuada higiene oral. En los casos de discapacidad intelectual severa, la asistencia odontológica se realiza bajo anestesia general en ámbito hospitalario, debido a que es imposible su atención en un gabinete dental bajo anestesia local por su nula colaboración.La realización de una exploración clínica y radiológica se ve frecuentemente imposibilitada y es habitual realizar el diagnóstico definitivo en el quirófano. Por ello es preciso su tratamiento en unidades especializadas que conozcan sus particularidades y estén familiarizados con sus necesidades clínicas. La patología oral que presenta este grupo es la misma que la de la población general, con la diferencia de que en la mayoría de los casos se ve agravada por la pobre higiene oral y la poca o inexistente atención odontológica, por las dificultades que hemos comentado anteriormente.La literatura existente acerca del manejo odontológico de pacientes discapacitados es escasa y no existen estudios que discrimen sus necesidades de tratamiento en función de las diferentes etiologías de la discapacidad. Es preciso la realización de estudios en los que se describan procedimientos para su tratamiento individualizado con el fin de mejorar los protocolos de actuación y la prevención para la mejorara de su salud oral...
In the last decades we have witnessed great developments in the knowledge and treatment of the severely disabled patients. There is a high demand for oral assistance, which is based on the lack of attention of treatment and the impossibility for severely disabled patience to keep a good oral hygiene The dental treatment is conducted under general anaesthesia in a hospital because of the impossibility of doing it at the dental office. It's common to do the final diagnosis in the operating room because of the impossibility of doing a proper exploration and radio diagnosis. Under-diagnosis and differential oral health treatment contribute to an increase in oral diseases of adults with disabilities and justify the need for specific units for these patients.The mentally disabled population has the same oral pathology as the general population, but with higher rates of dental caries, missing teeth, periodontal disease and malocclusion which are indicators of poor oral health and lack of collaboration for dental treatments. There is very little literature about this issue and there are no publications about the implication of the ethology in the oral health. More studies about the needs of attention are needed to create protocols for action and prevention of oral pathology in these patients...
Description
Tesis inédita de la Universidad Complutense de Madrid de la Facultad de Odontología del Departamento de Estomatología IV (Profilaxis, Odontopediatría y Ortodoncia), leída el 30 de Enero de 2018
Collections