Publication:
Los instrumentos del nuevo orden mundial: el derecho, la economía, la ciencia, el lenguaje y la religión en la sociedad del siglo XXI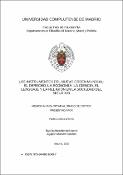 Files
Authors
Advisors (or tutors)
Editors
Publisher
Universidad Complutense de Madrid, Servicio de Publicaciones
Abstract
Esta Tesis Doctoral que entrego a la Facultad de Filosofía de la Universidad Complutense de Madrid tiene como propósito fundamental llenar el requisito de investigación necesaria para el título de Doctor en Filosofía Práctica. La Primera Parte examina los fenómenos sociales que se vienen manifestando, impulsados por el surgimiento de lo que he venido a denominar un Nuevo Derecho. La Segunda Parte analiza el contenido ideológico, que no científico, de los modelos económicos que se vienen presentando como panaceas para curar los males sociales, desde la concepción socialista hasta los planteamientos solidaristas y de justicia social como alternativas al modelo capitalista. La Tercera Parte examina, desde la perspectiva filosófica, el "nuevo humanismo" y sus vínculos con lo religioso, hasta culminar con el ocaso del cristianismo como alternativa social. Por último, la Cuarta Parte se centra en la sociedad, la ciencia y el arte como instrumentos del Nuevo Orden que se quiere imponer desde distintas instancias de la vida pública, incluidas las Naciones Unidas y las ONG que la sirven. Todas estas partes están referidas a los instrumentos empleados para el cambio y reingeniería social propuestos por las distintas agencias internacionales y movimientos partidistas, instrumentos que, como la semántica, la educación sexual, la ideología de género, las definiciones legales y el papel asumido por los tribunales constitucionales en la confección de sentencias que se convierten en leyes "aditivas" a las existentes, sirven de motores propulsores de las nuevas ideas que terminarán englobando las diferentes culturas.[ABSTRACT]The main purpose of the present thesis is to present the social changes that have been recently taking place. The First Part examines the social phenomena fuelled by the emergence of what has been named the New Law. The Second Part analizes the ideological content of the economic models that are being taken as panaceas to cure all social ills, from the socialist conception to those of social justice and solidarity as alternatives to the capitalistic model. The Third Part examines from the philosophical perspective the "New Humanism" and its links to the religious and its downfall as a social alternative. The Third Part centers in society, science and the arts as instruments of a New World Order that is being imposed upon from the different strata of public life, including the United Nations and the non-governmental institutions that gravitate around it. All of these parts are being referenced as instruments employed for bringing about change and social reingeneering proposed by different international agencies and political movements, instruments that, such as semantics, sexual education, gender ideology and the legal definitions and roles assumed by the different Constitutional Courts that put forth sentences that are nowhere found in local legislation but nevertheless supersede it, are propellants of the new ideas that will eventually engulf the different world cultures.
Description
Tesis de la Universidad Complutense de Madrid, Facultad de Filosofía, Departamento de Filosofía del Derecho, Moral y Política, leída el 12-09-2008
Collections