Publication:
Alfabetización informacional en la educación superior en México: estudio exploratorio sobre la apropiación en TIC de los docentes del a Universidad Autónoma de Tamaulipas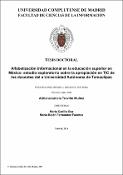 Files
Authors
Advisors (or tutors)
Editors
Publisher
Universidad Complutense de Madrid
Abstract
En esta tesis doctoral se aborda el estudio de la apropiación tecnológica con base en los programas de Alfabetización Informacional (AI) implementados dentro de las Instituciones de Educación Superior (IES) y se argumenta que el papel de los docentes en torno al uso de Tecnologías de la Información y Comunicación (TIC) debe ser puesto en valor, ya que la manera en que integran estas herramientas en sus tareas es esencial para alcanzar las metas institucionales sobre dichos programas. El objetivo general de la presente investigación es ahondar en el conocimiento del desarrollo de la alfabetización informacional, en concreto en el ámbito de las TIC, de la docencia universitaria en México. Para dar cuenta de los principales factores que intervienen en el proceso de apropiación tecnológica, se complementa con un estudio de caso correspondiente a los docentes de una de las universidades más importantes del noreste de México: la Universidad Autónoma de Tamaulipas (UAT), campus Ciudad Victoria. Dicho estudio exploratorio aborda también las implicaciones de las valoraciones subjetivas del profesorado sobre el empleo de las TIC en el desempeño de las actividades de enseñanza e investigación. Por su parte, los objetivos particulares que se plantearon fueron: 1) exponer las bases teórico-metodológicas de la alfabetización informacional que sustentan el uso de las TIC en la enseñanza superior; 2) describir las características contextuales de la Universidad Autónoma de Tamaulipas; 3) determinar las variables de cada uno de los factores que están relacionados con la AI y la apropiación TIC de los docentes, y 4) conocer y describir los factores que inciden en la alfabetización informacional y la apropiación tecnológica de los docentes de la UAT a partir de un enfoque predominantemente cuantitativo...
In this thesis is maintained that the course of implemented digital literacy programs, deployed at higher education institutions, should be linked to an educational model. It is argued, that the role of professors in the transmission of the institutional goals over such programs is in conveying knowledge through information and communication technologies (ICT), and should be assessed, notably regarding the integration of these instruments in educational and research functions. In this manner, the general research objective was defined as follows: to extend and render account of the main factors involved in professors' technology appropriation, based on information literacy programs, at university teaching. Specifically, this framework is complemented by a case study at one of the most important universities in northeast Mexico: The Autonomous University of Tamaulipas, Victoria City campus. In addition, this case study addresses the implications from subjective evaluations regarding ICT use that may intervene in the development of academic and investigative tasks. Furthermore, specific objectives were presented as it is mentioned next: 1) state theoretical and methodological basis that sustain information literacy and ICT uses in higher education; 2) describe the contextual characteristics from the Autonomous University of Tamaulipas, its position and significance within the Mexican higher education subsystem; 3) from the analysis model, created beforehand, to determine variables to each one of the factors related to the professors' technological appropriation and; 4) from a predominantly quantitative approach, know and describe crucial factors that have an impact on the professors' ICT appropriation at the UAT...
Description
Tesis inédita de la Universidad Complutense de Madrid, Facultad de Ciencias de la Información, leída el 12/06/2017
Collections