Publication:
El origen materno y su influencia en el resultado materno-perinatal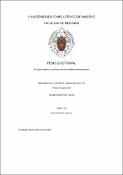 Files
Authors
Advisors (or tutors)
Editors
Publisher
Universidad Complutense de Madrid
Abstract
El estudio de los factores de riesgo y las principales causas de la pérdida del bienestar materno-perinatal, sigue siendo hoy en día una de las tareas más importantes en disciplinas como la Perinatología y la Salud Pública. Existen numerosas complicaciones que puede sufrir la mujer embarazada en las distintas etapas de su gestación y que pueden enmarcarse dentro del concepto de riesgo de pérdida del bienestar materno-perinatal (RPBMP). De entre todas ellas destacan de manera notable la muerte materna y los eventos de morbilidad materna aguda severa o near miss materno (NMM), por las implicaciones que ambas tienen sobre la paciente, su familia y la sociedad. También resultan de interés otros eventos relevantes de estudio como son el parto pretérmino, la diabetes gestacional, los estados hipertensivos del embarazo o los resultados neonatales adversos, a tener en cuenta en el análisis del resultado de la gestación [1,2].Todo esto ha llevado a numerosos autores a investigar y profundizar en la caracterización del riesgo de las mujeres embarazadas, para poder identificar grupos de población con una susceptibilidad incrementada de padecer determinadas complicaciones materno-perinatales. El análisis por grupos de gestantes de los malos resultados obstétricos es una herramienta que utiliza nuestro sistema sanitario para intentar disminuir las diferencias observadas en el pronóstico del embarazo de las mujeres en nuestro entorno [3]...
The study of the risk factors and main causes of loss of maternal-perinatal well-being continues to be one of the most important tasks in disciplines such as perinatology and public health.Pregnant women may experience numerous complications at different stages of pregnancy that can be framed within the concept of risk of loss of maternal-perinatal well-being (RLMPW). Among such complications, maternal death and severe acute maternal morbidity events or maternal near miss (MNM) stand out due to the implications that both have on the patient, her family and society. Other relevant events are also of research interest, such as preterm delivery, gestational diabetes, hypertensive states of pregnancy or adverse neonatal outcomes, to be taken into account in the analysis of gestation outcome [1,2].All this has led numerous researchers to investigate and deepen understanding on the risk characterization of pregnant women in order to identify population groups with an increased susceptibility to certain maternal-perinatal complications. Analysis by pregnant women group of poor obstetric outcomes is a tool that our health system uses to try to reduce the differences observed in the prognosis of pregnancy in women in our setting [3]...
Description
Tesis inédita de la Universidad Complutense de Madrid, Facultad de Medicina, leída el 22/01/2021
Collections