Publication:
La formación de las matronas: una aproximación al estudio de la evolución de esta profesión, (1857-1957)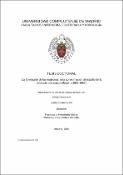 Files
Authors
Advisors (or tutors)
Editors
Publisher
Universidad Complutense de Madrid
Abstract
La presente tesis doctoral tiene por objeto el estudio e investigación de la formación de las matronas en España, en la etapa comprendida desde 1857 hasta 1957. Un periodo de tiempo que se inicia, desde que el oficio de matrona se identifica como profesión independiente, coincidiendo con la publicación de la Ley de Instrucción Pública de 9 de septiembre de 1857, y finaliza con el decreto de 18 de enero de 1957 (B.O.E. 12/2/57), con el que obtiene la categoría de especialidad de matrona. Un estudio amplio en el tiempo y que da razón de que en estos cien años, la profesión de matrona ha logrado por su formación unas cuotas de competencia y fiabilidad y un reconocimiento social y profesional. Cien años de historia que identifican rasgos fundamentales, aspectos y acontecimientos relevantes por donde han atravesado estas profesionales, en la formación y en la profesión y que gracias a ellas, hoy podemos contarlo e investigar estos hechos. La atención al parto ha sido una actividad marcada y considerada menos valiosa por ser mayoritariamente femenina, condicionada a limitaciones en su desarrollo formativo y profesional. Desde la antigüedad ha sido uno de los primeros oficios sanitarios ejercido por mujeres, relacionados con la asistencia y el cuidado. Con esta investigación hemos pretendido desentrañar los conocimientos aportados por el aprendizaje y por la evolución histórica de la profesión. Adentrarnos en los estudios de las matronas, implica realizar un análisis cronológico del reconocimiento y el desempeño de esta actividad, que a través del tiempo ha estado afectada por un marco de normativas legales que han cambiado sus patrones de actuación, y a la vez, ha estado supeditada por normas imperantes emanadas por otras profesiones. Así mismo, ha sido dependiente de las circunstancias sociales, políticas y económicas de cada época...
The aim in this doctoral thesis will be the description and study and the research of the midwiveś qualification in Spain, in the age from 1857 to 1957. A time frame which is started since this occupation of midwife is identified as an independent profession due to the publication of the Public Instruction Law of 9th of September of 1857, and this ends with the Decree of 18th of January of 1956 (BOE 12/2/57), in which we obtain the specific category of midwife. A wide research in the time which asserts that the midwifés profession has obtained both competences and reliability thanks its qualification in the last one hundred years and due to this fact it has obtained the social and professional recognition. One hundred years of history that identify some fundamental features, aspects and relevant events that this professionals have overpass in the qualification and in the profession and thanks to her, today we can tell it, and we can search this doings. The care delivery has been a strong activity and has been marked and underestimated to be principally female, and this has been conditional for the limitations in its formative development and professional development. Despite being since the past years, one of the first care professions carry out by women related to the care and the nursing. With this research has been pretended disembowel the knowledge provided by the qualification and at the same time the historical evolution of this profession. To get into the studies of midwife, this involves making a chronological analysis about the recognition and the performance of this profession. This has been affected by a legal normative frame that has changed their behaviour and at the same time, has been contingent by prevailing standard, depending on the social, political and economic circumstances of every age. A route by a wide temporal dimension which corroborates the journey of this profession...
Description
Tesis inédita de la Universidad Complutense de Madrid, Facultad de Enfermería, Fisioterapia y Podología, leída el 05-02-2016
Collections