Publication:
Ocular residual astigmatism's effect on high myopic astigmatism LASIK surgery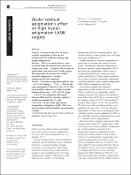 Advisors (or tutors)
Editors
Abstract
Purpose: To analyze the effect of ocular residual astigmatism (ORA) on the effectiveness of LASIK for treating high myopic astigmatism. Methods: This is an observational, cross-sectional study. We studied 116 consecutive myopic eyes with −3 diopters (D) or more of astigmatism that underwent LASIK surgery. The magnitude of uncorrected residual refractive astigmatism 3 months postoperatively was measured. Results: The mean preoperative cylinder was −4.0±0.83 D (range, −7.5 to −3 D) and the mean preoperative ORA was 0.82±0.5 D. The mean residual refractive cylinder 3 months postoperatively was −0.78±0.83 D (range, −3 to 0 D). No correlation was found between ORA and the refractive cylinder 3 months postoperatively (P=0.6). Conclusion: In eyes with high myopic astigmatism undergoing LASIK, ORA was not correlated with the residual postoperative cylinder.
Description
En O.A. en PubMed Central. © 2014 Royal College of Ophthalmologists. The results of this article were presented in part in the XXX Congress of the ESCRS in Milano (Italy), September 2012. Received: 13 January 2014; Accepted in Revised form: 27 April 2014; Advance online publication 27 June 2014.
Collections