Publication:
Consilium Diversificare. La política exterior colombiana entre 1991 y 2014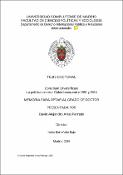 Files
Authors
Advisors (or tutors)
Editors
Publisher
Universidad Complutense de Madrid
Abstract
El estudio de la política exterior colombiana se constituye como una de las herramientas requeridas para su fortalecimiento, si logra ser explicada como un proceso histórico cuyos lineamientos y desarrollos responden a determinados elementos y condicionantes, tanto en la esfera interna como externa. El consilium diversificare o plan de diversificación analizado en este trabajo académico, puesto en práctica desde 2010, con el gobierno del presidente Juan Manuel Santos Calderón -más allá de lo retórico o discursivo- se plantea, en principio, como condición esencial para iniciar con la construcción de una política exterior pública de Estado para la República de Colombia.En adición, la Constitución Política de este país, de 1991, es considerada un hito político y económico para el Estado colombiano, combinado con una serie de características del sistema internacional propio del fin de la Guerra Fría, que lo consolidan como un interesante punto de partida para la realización de un estudio comparativo de los últimos cinco periodos presidenciales, incluyendo el de la primera administración Santos (2010-2014), que permiten establecer si la diversificación puede ser catalogada como una condicionante para considerar a la política exterior colombiana de Estado o de gobierno y si, además, han existido otros elementos que afecten las diferentes etapas de formulación, implementación y evaluación de la misma...
The study of Colombian foreign policy is constituted as one of the tools required for its strengthening, if it can be explained as a historical process whose guidelines and developments respond to certain elements and conditions, both internally and externally. The consilium diversificare or "diversification plan" analyzed in this academic work, put into practice since 2010, with the government of President Juan Manuel Santos Calderón -beyond the rhetorical or discursive- arises, in principle, as an essential condition to start with the construction of a public foreign policy of State for the Republic of Colombia.In addition, Colombia's Political Constitution of 1991 is considered a political and economic milestone for the Colombian State, combined with a series of characteristics of the international system proper to the end of the Cold War, which consolidate it as an interesting point of reference. A study of the last five presidential periods, including that of the first Santos administration (2010-2014), which establish whether diversification can be classified as a condition for considering the foreign policy of Colombia as a State's policy or a government's policy and if, in addition, there have been other elements that affect its different stages of formulation, implementation and evaluation...
Description
Tesis de la Universidad Complutense de Madrid, Facultad de Ciencias Políticas y Sociología, Departamento de Derecho Internacional Público y Relaciones Internacionales, leída el 24-09-2018
Collections