Publication:
Aplicación de métodos computacionales a la monitorización y el cosechado de cultivos de microalgas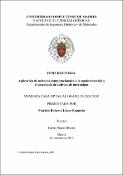 Files
Authors
Advisors (or tutors)
Editors
Publisher
Universidad Complutense de Madrid
Abstract
El incremento de la población mundial junto a la mejora de los medios de vida de los países en vías de desarrollo está causando un aumento de la presión sobre los recursos naturales del planeta. Esta situación ha propiciado que los gobiernos, el mundo académico y la industria hagan una búsqueda activa de nuevas fuentes de suministro que permitan el sostenimiento de la población y el desarrollo de la calidad de vida de la sociedad. A esta tendencia hay que añadir el creciente compromiso social por la conservación del medioambiente y el desarrollo sostenible. Se plantea pues, una coyuntura en la que coexisten una realidad demográfica y unos intereses sociales que son, a primera vista, contrapuestos. En este escenario, la producción sostenible de biomasa de microalgas se ha valorado como una opción atractiva para contribuir a resolver estos retos. La biomasa de microalgas como fuente de productos de alimentación o de productos químicos de interés presenta una serie de ventajas respecto a otras opciones. Por un lado, su producción puede llevarse a cabo en terrenos no aptos para el cultivo o la ganadería o incluso en el mar. Por otro lado, la posibilidad de emplear residuos ricos en nutrientes de otros procesos productivos, especialmente cuando la biomasa se destina a la producción de sustancias no destinadas al consumo humano, permitirían a la sociedad avanzar hacia la economía circular. Además, dado que las microalgas son seres fotosintéticos, su producción permitiría el aprovechamiento del CO2 generado en procesos de combustión, actuando la industria productora de biomasa de microalgas como sumidero de carbono...
The increase in the world population together with the improvement of the livelihoods of the developing countries is causing an increment in the pressure on the planet's natural resources.This situation has led governments, industry and academia to actively search for new resources to sustain the population and develop of the quality of life of society. To this trend we must add the growing social commitment toward the environmental preservation and sustainable development. Therefore, a situation arises in which a demographic reality coexists with social interests that are, at first sight, opposed. In this scenario, the sustainable production of microalgae biomass has been valued as an attractive option to contribute to address these challenges. The biomass of microalgae as a source of food or chemical products of interest has a series of advantages over other options. On the one hand, its production can be carried out on land not suitable for cultivation or livestock, and even at sea. Additionally, the possibility of using nutrient-rich waste from other production processes, especially when biomass is used for the production of substances not intended for human consumption,would allow society to progress towards the circular economy. Furthermore, given that microalgae are photosynthetic beings, their production would allow the use of CO2 generated in combustion processes, acting the microalgal production industry as a carbon sink...
Description
Tesis inédita de la Universidad Complutense de Madrid, Facultad de Ciencias Químicas, Departamento de Ingeniería Química y de Materiales, leída el 09-07-2019
Collections