Publication:
Análisis de Tierra de Almazán y Tierra de Jalón. Una aproximación desde los Pueblos Inteligentes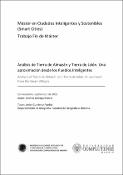 Authors
Advisors (or tutors)
Editors
Abstract
En España, desde la mitad del siglo XX se ha producido el proceso demográfico de la despoblación, provocando que gran parte de la población que vivía en áreas rurales se desplazara a las ciudades. De esta forma, además de crearse esta pérdida poblacional, se produjo una disminución de las inversiones, provocando que existan lugares sin infraestructuras de transporte, comunicaciones, sanitarias, educativas, de ocio y/o culturales, pero donde sus habitantes, al igual que en las zonas urbanas, tienen derecho a disfrutar de todos los servicios. Por todo ello, este Trabajo de Fin de Máster va a tratar de acercar las metodologías de las Smart Cities para conseguir encontrar soluciones eficaces e innovadoras que consigan revertir este proceso, concretamente en el sentido de volver a proporcionar los suficientes servicios sociales (movilidad, sanidad, educación y ocio y cultura) para mejorar la calidad de vida de sus habitantes, haciendo en un primer lugar un estudio bibliográfico de proyectos que incentivan los pueblos inteligentes. Posteriormente, se centra en una zona al sur de la provincia de Soria, donde se ha comprobado que desde 1950 ha perdido más de la mitad de su población. Así, se realiza un análisis socioeconómico, de los servicios y del acceso a internet apoyado con un análisis de entrevistas y encuestas junto con un trabajo de campo. Los resultados más relevantes muestran que es un área con muy poca densidad de población (menos de 5 habitante/km2) y envejecida, con escasas dotaciones en transporte público, sanidad y educación, que con la pandemia se han ido agravando, y un ocio que se resume en pequeñas instalaciones en las localidades y centros culturales. Por todo ello, se muestra una población con un pensamiento negativo ante la problemática que les acontece. Así pues, los hallazgos reflejan la gran necesitad de aplicar nuevos enfoques que puedan garantizar el bien social en las áreas rurales.
In Spain, since the mid-20th century, the demographic process of depopulation has taken place, causing a large part of the population living in rural areas to move to the cities. As a result, in addition to this population loss, there has been a decrease in investment, leading to the existence of places without transport, communications, health, education, leisure and/or cultural infrastructures, but where their inhabitants, just as in urban areas, have the right to enjoy all the services. Therefore, this Master's Thesis will try to approach the methodologies of Smart Cities to find effective and innovative solutions to reverse this process, specifically in the sense of returning to provide sufficient social services (mobility, health, education and leisure and culture) to improve the quality of life of its inhabitants, making first a bibliographical study of projects that encourage smart cities. Subsequently, this project focuses on an area in the south of the province of Soria, where it has been found that since 1950 it has lost more than half of its population. Thus, a socio-economic analysis of services and internet access is carried out, supported by an analysis of interviews and surveys together with field work. The most relevant results show that it is an area with a very low population density (less than 5 inhabitants/km2 ) and an ageing population, with scarce public transport, health, and education facilities, which have worsened with the pandemic, and a leisure system that can be summed up in small local facilities and cultural centres. For all these reasons, the population has a negative attitude towards the problems that are happening to them. Thus, the findings reflect the great need for new approaches that can guarantee the social good in rural areas.