Publication:
El comercio entre China y América Latina y el Caribe: Asimetrías existentes y oportunidades para el desarrollo a través de la tecnología en el caso de Argentina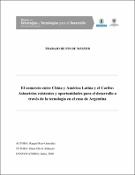 Authors
Advisors (or tutors)
Editors
Abstract
Si bien el modelo de aproximación comercial de China a América Latina y el Caribe varía de forma paulatina hacia nuevos sectores productivos, se mantiene en la actualidad el predominio de un modelo extractivo y de importación de productos primarios, que deriva en la existencia de notables asimetrías comerciales e impide el desarrollo de mayores capacidades productivas, dejando en evidencia la falta de una transferencia tecnológica y conocimientos que puedan impulsar las economías locales de una manera más intensa y transversal. Este trabajo, centrado en Argentina como escenario principal con el estudio de caso del Parque Solar Cauchari, plantea que es posible -a través de algunos canales y mecanismos vigentes- incrementar dicho componente tecnológico en la relación con China ayudando a impulsar la economía local. Para ello propone un nuevo modelo analítico de incorporación y apropiación tecnológica a tener en cuenta para sumar valor agregado en el marco de los proyectos de infraestructura chinos en el país.
Although the model for China's trade approach to Latin America and the Caribbean is gradually changing towards new productive sectors, the predominance of an extractive and primary product import model is still in place. It results in the existence of significant trade asymmetries and hampers the development of greater productive capacities. This paper, focused on Argentina as the main scenario with the case study of the Cauchari Solar Park, proposes that it is possible -through some of the existing channels and mechanisms- to increase this technological component in the relationship with China by helping to boost the local economy. To this end, it proposes a new analytical model of technological incorporation and appropriation to be taken into account to add value in the framework of Chinese infrastructure projects in the country.