Publication:
Impacto de la inscripción de la ciudad maya de Palenque en la lista del patrimonio mundial de la Unesco.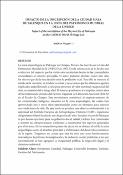 Authors
Advisors (or tutors)
Editors
Publisher
Universidad Complutense de Madrid, Servicio de Publicaciones
Abstract
La zona arqueológica de Palenque en Chiapas, México fue inscrita en la Lista del Patrimonio Mundial de la UNESCO en 1987. Desde entonces no se ha hecho una evaluación del impacto que ha tenido esta inscripción dentro de las comunidades circundantes al entorno protegido. El autor pretende abordar cuáles han sido los efectos que dicha inscripción entre la población local. Para ello se muestra el estado de la cuestión, su tendencia actual y las acciones que los diferentes agentes implicados están llevando a cabo para preservar el valor universal excepcional del sitio, su autenticidad e integridad. El tema es pertinente al cumplirse veinte años del levantamiento armado del Ejercito Zapatista de Liberación Nacional (EZLN) en el Estado de Chiapas. Este movimiento contribuyó al empoderamiento de las comunidades indígenas presentes en la zona arqueológica, las cuales han aprovechado este y otros sitios patrimoniales como un elemento para mejorar sus condiciones de vida. De este modo se produce una abierta confrontación a la autoridad del Instituto Nacional de Antropología e Historia (INAH), organismo del gobierno federal facultado para la gestión del sitio. Estudiar el caso de Palenque es por demás oportuno pues los gobiernos local, estatal y federal han comenzado a invertir en infraestructuras tendientes a incrementar los ingresos generados por el turismo. En los respectivos planes de ejecución se destaca el rol de la zona arqueológica como el atractivo principal y el detonador del desarrollo económico de la región. Tengamos en cuenta que esta ha sido una zona históricamente marcada por la pobreza, la marginación y la exclusión social, problemas a los que recientemente se han agregado la inseguridad pública, la migración ilegal y el deterioro ambiental.
The archaeological site of Palenque in the Mexican state of Chiapas was inscribed on the UNESCO World Heritage List in 1987. Due to a lack of evaluation of the impacts that the inscription has had among the communities around the protected area, this paper aims to address these effects on the local people of the region. It demonstrates the condition of the site, its trend of action and what the people involved are doing in order to preserve the Outstanding Universal Value of the site and its integrity and authenticity. The results presented are a first advance of the research in progress, whose relevance and pertinence coincides with the 20th anniversary of the rising of the Zapatista Army of National Freedom (EZLN) in the state of Chiapas. The EZLN has contributed to the empowerment of local indigenous communities who reside in the archaeological site, advocating for the use of this, and other heritage sites, as a way to improve their life conditions in opposition to the official authorities. This study of Palenque is timely, as both the local and federal governments have begun to develop infrastructures and amenities, which have tended to increase the income coming from tourism. In such development plans, the role of the archaeological site as the main attraction in the region is essential, for it is the engine of local development. It is a region that has historically been marked by poverty, marginalization and social exclusion, problems to which recently insecurity, illegal migration and environmental degradation have been added.
Collections