Publication:
Subantarctic macrotidal flats, cheniers and beaches in San Sebastian Bay, Tierra Del Fuego, Argentina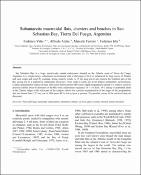 Authors
Advisors (or tutors)
Editors
Abstract
San Sebastian Bay is a large, semicircular coastal embayment situated on the Atlantic coast of Tierra del Fuego, Argentina. It is a high-energy, subantarctic environment with a tidal range of 10.4 m, influenced by large waves of Atlantic and local origin and swept by constant, strong westerly winds. A 17 km long gravel spit protects the Northern part of the Bay giving rise to a gradient in sedimentary processes. From south to north, are seven distinct sedimentary environments. Coastal sedimentation started at least 5200 years before present BP. and a rapid progradation related to a relative sea-level drop has infilled about 6 kilometres of the Bay with a sedimentary sequence 10–11 m thick. 14-C dating of unabraded shells in the Chenier ridges of the relict part of the complex allows for a precise reconstruction of the stages of the progradation, that has slowed from 2.35 mryear at 5000 years BP to 0.6 mryear at present. The possible causes of the sea-level drop are discussed.
Collections