Publication:
G-networks: A versatile approach for work removal in queueing networks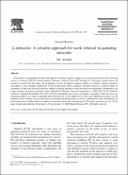 Authors
Advisors (or tutors)
Editors
Abstract
G-networks (or queueingnetworks with negative customers, signals, triggers, etc.) are characterized by the following feature: in contrast with the normal positive customers, negative customers arriving to a non-empty queue remove an amount of work from the queue. In its simplest version, a negative customer deletes an ordinary positive customer according to some strategy. Extensions of the model result when a negative customer removes a random batch of customers, all the work from the queue or indeed a random amount of work that does not necessarily correspond to an integer number of positive customers. Since Gelenbe (E. Gelenbe, Neural Computation 1 (1989) 502–510; E. Gelenbe, Journal of Applied Probability 28 (1991) 656–663) introduced the notion of negative customers, there has been an increasing interest not only in queueingnetworks but also in the single server node case. Significant progress in the analysis of this versatile class of networks has enriched queueing theory as well as contributed to the development of real applications in fields such as computers, communications and manufacturing. This paper presents a survey of the main results and methods of the theory of G-networks.
Description
This research was supported by the European Commission under INTAS 96-0828 and the DGICYT under PB98-0837.
Citation
J.R. Artalejo, Retrial queues with negative arrivals, in: Proceedings of International Conference on Stochastic Processes, Cochin, 1996, pp. 159–168 J.R. Artalejo, A. Gomez-Corral. Stochastic analysis of the departure and quasi-input processes in aversatile single-server queue. Journal of Applied Mathematics and Stochastic Analysis, 9 (1996), pp. 171–183 J.R. Artalejo, A. Gomez-Corral. Generalized birth and death processes with applications to queues with repeated attempts and negative arrivals. OR Spektrum, 20 (1998), pp. 5–14 J.R. Artalejo, A. Gomez-Corral. Analysis of a stochastic clearing system with repeated attempts. Stochastic Models, 14 (1998), pp. 623–645 J.R. Artalejo, A. Gomez-Corral, On a single server queue with negative arrivals and request repeated, Journal of Applied Probability, to appear. J.R. Artalejo, A. Gomez-Corral. Performance analysis of a single-server queue with repeated attempts. Mathematical and Computer Modelling, 30 (1999), pp. 79–88 J.R. Artalejo, A. Gomez-Corral. Computation of the limiting distribution in queueing systems with repeated attempts and disasters. RAIRO Operations Research, 33 (1999), pp. 371–382 N. Bayer, O.J. Boxma. Wiener–Hopf analysis of an M/G/1 queue with negative customers and of a related class of random walks. Queueing Systems, 23 (1996), pp. 301–316 R.J. Boucherie, Product form in queueingnetworks, PhD Thesis, Free University, Amsterdam, 1992 R.J. Boucherie, O.J. Boxma. The workload in the M/G/1 queue with workremoval. Probability in the Engineering and Informational Sciences, 10 (1996), pp. 261–277 R.J. Boucherie, O.J. Boxma, K. Sigman. A note on negative customers, GI/G/1 workload and risk processes. Probability in the Engineering and Informational Sciences, 11 (1997), pp. 305–311 R.J. Boucherie, N.M. van Dijk. Local balance in queueingnetworks with positive and negative customers. Annals of Operations Research, 48 (1994), pp. 463–492 X. Chao. A note on queueingnetworks with signals and random triggering times. Probability in the Engineering and Informational Sciences, 8 (1994), pp. 213–219 X. Chao. Networks of queues with customers, signals and arbitrary service time distributions. Operations Research, 43 (1995), pp. 537–550 X. Chao. Aqueueingnetwork model with catastrophes and product form solution. Operations Research Letters, 18 (1995), pp. 75–79 X. Chao, M. Miyazawa, R.F. Serfozo, H. Takada. Markov network processes with product form stationary distributions. Queueing Systems, 28 (1998), pp. 377–401 X. Chao, M. Pinedo. On generalized networks of queues with positive and negative arrivals. Probability in the Engineering and Informational Sciences, 7 (1993), pp. 301–334 X. Chao, M. Pinedo. Networks of queues with batch services signals and product form solutions. Operations Research Letters, 17 (1995), pp. 237–242 X. Chao, M. Pinedo. On queueingnetworks with signals and history-dependent routing. Probability in the Engineering and Informational Sciences, 9 (1995), pp. 341–354 X. Chao, S. Zheng. A result on networks of queues with customer coalescence and state-dependent signalling. Journal of Applied Probability, 35 (1998), pp. 151–164 A. Chen, E. Renshaw. The M/M/1 queue with mass exodus and mass arrivals when empty. Journal of Applied Probability, 34 (1997), pp. 192–207 A.N. Dudin, S. Nishimura, Embedded stationary distribution for the BMAP/SM/1/N queue with disasters, in: Queues: Flows, Systems, Networks, Byelorussian State University, Minsk, 1998 J.M. Fourneau, Computing the steady-state distribution of networks with positive and negative customers, in: Proceedings of 13th IMACS World Congress on Computation and Applied Mathematics, Dublin, 1991 J.M. Fourneau, E. Gelenbe, G-networks with multiple classes of signals, in: Proceedings of ORSA Computer Science Technical Committee Conference, Williamsburg, VA, Pergamon Press, New York, 1992 J.M. Fourneau, E. Gelenbe, R. Suros. G-networks with multiple classes of negative and positive customers. Theoretical Computer Science, 155 (1996), pp. 141–156| E. Gelenbe, Réseaux stochastiques ouverts avec clients négatifs et positifs, et réseaux neuronaux, Comptes Rendus de l'Académie des Sciences 309, Série II, 1989, pp. 979–982 E. Gelenbe. Random neural networks with negative and positive signals and product form solution. Neural Computation, 1 (1989), pp. 502–510 E. Gelenbe, Réseaux neuronaux et aléatoires stables, Comptes Rendus de l'Académie des Sciences 310, Série II, 1990, pp. 177–180 E. Gelenbe. Stability of the random neural network model. Neural Computation, 2 (1990), pp. 239–247 E. Gelenbe. Product-form queueingnetworks with negative and positive customers. Journal of Applied Probability, 28 (1991), pp. 656–663 E. Gelenbe, Une généralisation probabiliste du problème SAT, Comptes Rendus de l'Académie des Sciences 313, Série II, 1992, pp. 339–342 E. Gelenbe. G-networks with triggered customer movement. Journal of Applied Probability, 30 (1993), pp. 742–748 E. Gelenbe. Learning in the recurrent random neural network. Neural Computation, 5 (1993), pp. 154–164 E. Gelenbe. G-networks with signals and batch removal. Probability in the Engineering and Informational Sciences, 7 (1993), pp. 335–342 E. Gelenbe. G-networks: A unifying model for neural and queueingnetworks. Annals of Operations Research, 48 (1994), pp. 433–461 E. Gelenbe, P. Glynn, K. Sigman. Queues with negative arrivals. Journal of Applied Probability, 28 (1991), pp. 245–250 E. Gelenbe, V. Koubi, F. Pekergin. Dynamical random neural approach to the traveling salesman problem. Elektrik, 2 (1994), pp. 1–10 E. Gelenbe, A. Labed. G-networks with multiple classes of signals and positive customers European Journal of Operational Research, 108 (1998), pp. 293–305 E. Gelenbe, R. Schassberger. Stability of G-networks. Probability in the Engineering and Informational Sciences, 6 (1992), pp. 271–276 A. Ghanwani. Neural and delay based heuristics for the Steiner problem in networks. European Journal of Operational Research, 108 (1998), pp. 241–265 A. Gomez-Corral, Retrial queues with negative customers, PhD Thesis, Statistics and Operations Research, Universidad Complutense de Madrid, 1996 (in Spanish) A. Gomez-Corral, On single-server queues governed by a clearing mechanism and a secondary input of repeated attempts, in: Proceedings of International Conference on Stochastic Processes, Cochin, 1996, pp. 169–180 P.G. Harrison, E. Pitel. Sojourn times in single-server queues with negative customers. Journal of Applied Probability, 30 (1993), pp. 943–963 P.G. Harrison, E. Pitel. Response time distributions in tandem G-networks. Journal of Applied Probability, 32 (1995), pp. 224–246 P.G. Harrison, E. Pitel. The M/G/1 queue with negative customers. Advances in Applied Probability, 28 (1996), pp. 540–566 W. Henderson. Queueingnetworks with negative customers and negative queue lengths. Journal of Applied Probability, 30 (1993), pp. 931–942 W. Henderson, B.S. Northcote, P.G. Taylor. State-dependent signalling in queueingnetworks. Advances in Applied Probability, 26 (1994), pp. 436–455 W. Henderson, B.S. Northcote, P.G. Taylor. Geometric equilibrium distributions for queues with interactive batch departures. Annals of Operations Research, 48 (1994), pp. 493–511 G. Jain, A rate conservation analysis of queues and networks with workremoval, PhD Dissertation, Industrial Engineering and Operations Research, Columbia University, 1996 G. Jain, K. Sigman. A Pollaczek–Khintchine formula for M/G/1 queues with disasters. Journal of Applied Probability, 33 (1996), pp. 1191–1200 G. Jain, K. Sigman. Generalizing the Pollaczek–Khintchine formula to account for arbitrary workremoval. Probability in the Engineering and Informational Sciences, 10 (1996), pp. 519–531 K. Kim, A.F. Seila. A generalized cost model for stochastic clearing systems. Computers and Operations Research, 20 (1993), pp. 67–82 M. Miyazawa. Insensitivity and product-form decomposibility of reallocatable GSMP Advances in Applied Probability, 25 (1993), pp. 415–437 B.S. Northcote, Signalling in product form queueingnetworks, PhD Thesis, University of Adelaide, 1993 E. Pitel, Queues with negative customers, PhD Thesis, Imperial College, London, 1994 R. Serfozo, S. Stidham. Semi-stationary clearing systems. Stochastic Processes and their Applications, 6 (1978), pp. 165–178 Y.W. Shin. Sojourn time distributions for M/M/c G-queue. Communications of the Korean Mathematical Society, 13 (1998), pp. 405–434 S. Stidham. Cost models for stochastic clearing systems. Operations Research, 25 (1977), pp. 100–127 D. Towsley, S.K. Tripathi. A single server priority queue with server failures and queue flushing. Operations Research Letters, 10 (1991), pp. 353–362 X. Chao, M. Miyazawa, M. Pinedo, QueueingNetworks: Customers, Signals and Product Form Solutions, Wiley, Chichester, 1999
Collections