Publication:
El estudio de la opinión pública sobre la administración y las políticas públicas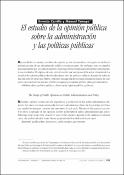 Advisors (or tutors)
Editors
Abstract
Hoy en día las encuestas y sondeos de opinión ya son reconocidos como parte de las herramientas propias de un administrador público contemporáneo. Sin embargo, esto no significa necesariamente que los administradores dispongan de las teorías para interpretar correctamente sus resultados. El objetivo de este artículo es efectuar un repaso de la actual situación de los estudios de opinión pública sobre la administración y las políticas públicas. Además de seleccionar una serie de temas que deben conformar una agenda de investigación para el análisis de cualquier caso nacional, los autores identifican algunas propuestas teóricas útiles para abordarlos. Palabras clave: políticas públicas, democracia, opinión pública, gobierno.
Nowadays, opinion surveys are well regarded as a useful tool for the public administrator. However, this does not mean necessarily that such administrators have the knowledge and theories needed to interpret correctly the outcomes of such tools. The aim of this paper is precisely to show a summary of the opinions surveys in the field of public administration and policy. Selecting some topics that should be part of the research agenda in the analysis of national cases, the authors identify some theory proposal useful to deal with those cases.
Collections