Publication:
El sistema financiero español y su vinculación con el arte (mecenazgo, patrocinio, colecciones y exposiciones) a través de las fundaciones y obras sociales (2007-2016)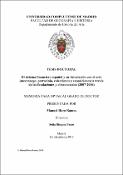 Files
Authors
Advisors (or tutors)
Editors
Publisher
Universidad Complutense de Madrid
Abstract
Se presentan en esta tesis las aportaciones del sistema financiero español a la cultura/ arte y más concretamente a las artes plásticas y visuales, a través de sus fundaciones y obras sociales. Dichas instituciones forman parte del llamado «Tercer Sector», el bloque intermedio de la sociedad que no es ni público ni privado sino mezcla de ambos. Se ha analizado a estos «nuevos mecenas», que nacieron en su mayoría a finales de la década de los años setenta y se desarrollaron a lo largo delos ochenta del siglo XX, profundizando en cómo contribuyen en la compleja relación entre arte,economía y sociedad. Es necesario resaltar la idea de que necesitamos una economía de la cultura, es decir, que la cultura necesita su economía y su gestión igual que cualquier otra actividad. Hay especialistas que todavía defienden que el sector cultural no puede actuar con los principios económicos que favorecen la gestión interdisciplinar. Desde el punto de vista de la inversión, que no del gasto, no es fácil dar cifras concretas de lo que aporta el sector financiero español a las actividades relacionadas con el arte: mecenazgos, patrocinios, colecciones, exposiciones, museos y salas de arte. Esta investigación nos ha permitido valorar el esfuerzo destinado por las fundaciones y obras sociales al área cultura - arte, además de su participación en otras actividades como la asistencial, social, medioambiental,investigación educación, reinserción, publicaciones, etc...
This thesis provides an approach to the contributions of the Spanish Financial System to the Culture and to the Plastic and Visual arts in particular, via Foundations and Social Supporting Organizations.These Institutions conform the so called Third Sector, the intermediate block of the society that is neither public nor private but a mixture of both. We have analysed these New Maecenas that appeared mainly at the end of the decade of the 70's and developed throughout the 80's, focussing on the way they contribute to the complex relationship between Art, Economy and Society. It is necessary to emphasize the need of an Economy of the Culture, meaning that culture needs its economy and needs to be managed just as any other activity. There are specialists who still defend that the cultural sector cannot act based on the economic principles encouraged by management's interdisciplinary nature. From the point of view of the investment, not cost, it is not easy to estimate how much the Spanish Financial Sector contributes to the activities related to the Art with precise numbers: patronages, sponsorships, collections, exhibitions, museums and art galleries.This investigation made us value the effort made by the Social Foundations to the Cultural/Artarea, in addition to its participation in other areas such as welfare, social, environmental, investigation, education, social reintegration, publications, etc...
Description
Tesis de la Universidad Complutense de Madrid, Facultad de Geografía e Historia, Departamento de Historia del Arte, leída el 16-05-2019
Collections