Publication:
Efectos biológicos de la cardiolipina extracelular en pulmón. Acción antiviral frente a la infección por el virus respiratorio sincitial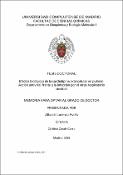 Files
Authors
Advisors (or tutors)
Editors
Publisher
Universidad Complutense de Madrid
Abstract
Para facilitar el intercambio gaseoso, el pulmón presenta la mayor área del cuerpo encontacto con el medio externo, lo que facilita la oxigenación pero aumenta el riesgode infección e inflamación por patógenos y endotoxinas presentes en el aire querespiramos. El epitelio alveolar (neumocitos tipo I y II) y los macrófagos alveolaresestán cubiertos por un fluido acuoso que contiene membranas extracelulares,sintetizadas y secretadas por los neumocitos tipo II, denominadas surfactantepulmonar.El surfactante pulmonar está compuesto por un 90% en peso de lípidos(mayoritariamente fosfolípidos) y un 10% en peso de proteínas, dentro de lascuales encontramos las cuatro proteínas específicas del surfactante pulmonar SPA,SP-B, SP-C y SP-D. La principal función del surfactante pulmonar es reducir latensión superficial en la interfase aire-líquido al final de la espiración, evitando asíel colapso alveolar. Además, el surfactante pulmonar, juega un papel fundamentalen la defensa inmune innata del alveolo [Cañadas and Casals, 2012]. Se hadescrito que las proteínas del surfactante SP-A y SP-D, denominadas colectinaspulmonares, actúan como opsoninas incrementando la fagocitosis de bacterias[McCormack and Whitsett, 2002] y son capaces de modular la respuesta inmuneinnata desencadenada por LPS [Stamme et al., 2002; Yamazoe et al., 2008]. Losfosfolípidos aniónicos del surfactante, principalmente POPG, presentan efectoanti-inflamatorio en macrófagos estimulados con LPS [Kuronuma et al., 2009] yMycoplasma pneumoniae [Kandasamy et al., 2011], bloqueando la unión de LPS aTLR4 o de M. pneumoniae a TLR2 [Kuronuma et al., 2009; Kandasamy et al., 2011].Además, se ha descrito que POPG es capaz de neutralizar los virus respiratorios,influenza A y virus respiratorio sincitial (VRS), in vitro e in vivo [Numata et al., 2010;Numata et al., 2012]. Sin embargo, su acción anti-inflamatoria y antiviral desapareceal estar inmersos en las estructuras membranosas que forman el surfactantepulmonar...
To facilitate gas exchange, the lung has the largest area of the body in contactwith the external environment. This extensive surface in contact with the externalmedium aids oxygenation but increases the risk of infection and inflammation bypathogens and endotoxins present in the air we breathe. The alveolar epithelium(type I and type II pneumocytes) and alveolar macrophages are covered by anaqueous fluid containing extracellular membranes called pulmonary surfactant thatare synthesized and secreted by type II pneumocytes.Pulmonary surfactant is composed of approximately 90 wt.% lipids (mainlyphospholipids) and 10 wt.% proteins, among which are four specific surfactantproteins: SP-A, SP-B, SP-C, and SP-D. The main function of pulmonary surfactantis to reduce the surface tension at the air-liquid interface at the end of exhalation,preventing alveolar collapse. In addition, pulmonary surfactant plays a key role ininnate immune defense in the alveolus [Cañadas and Casals, 2012]. Pulmonarycollectins (SP-A and SP-D) act as opsonins, increasing the phagocytosis of bacteria[McCormack and Whitsett, 2002], and are able to modulate the LPS-triggered innateimmune response [Stamme et al., 2002; Yamazoe et al., 2008]. Anionic surfactantphospholipids, mainly POPG, have anti-inflammatory actions on macrophagesstimulated with bacterial lipopolysaccharide (LPS) [Kuronuma et al., 2009] andMycoplasma pneumoniae [Kandasamy et al., 2011], blocking the binding of eitherLPS to TLR4 or M. pneumoniae to TLR2 [Kuronuma et al., 2009; Kandasamy etal., 2011]. Moreover, POPG is capable of neutralizing respiratory viruses such asinfluenza and respiratory syncytial virus, in vitro and in vivo [Numata et al., 2010;Numata et al., 2012]. However, its anti-inflammatory and antiviral actions disappearwhen POPG forms part of pulmonary surfactant membranes...
Description
Tesis de la Universidad Complutense de Madrid, Facultad de Ciencias Químicas, Departamento de Bioquímica y Biología Molecular I, leída el 26-06-2017
Collections