Publication:
Implementación de una aplicación móvil iOS para la gestión de pacientes con enfermedades cardiovasculares. Módulo Calculador de Bolos de Insulina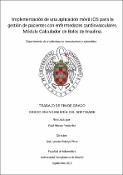 Files
Authors
Advisors (or tutors)
Editors
Abstract
Existen actualmente en torno a 8 millones de aplicaciones móviles en Google Play, 2.2 millones en el App Store y 669 000 para dispositivos Windows Phone, siendo cada una de estas de diferente tipo y ofreciendo distintas funcionalidades. Dada esta variedad, no es de extrañar que cada vez existan más aplicaciones médicas que, ayudan tanto a médicos como a pacientes durante el desarrollo y tratamiento de la enfermedad. En este proyecto se ha desarrollado una aplicación médica para dispositivos iOS enfocada al tratamiento de enfermedades crónicas y de riesgo cardiovascular. En concreto nos centramos en la diabetes. Por un lado, la finalidad de la aplicación es recomendar al paciente la dosis óptima de insulina que debe tomar en cada momento basándose en los parámetros médicos almacenados sin necesidad de que este tenga que realizar ningún cálculo. Por otro lado, el médico podrá llevar un seguimiento de todos sus pacientes, pudiendo acceder a los datos de cada uno de ellos de manera sencilla e intuitiva. Con el fin de garantizar la corrección de los datos, también existe un usuario, que idealmente debería ser un/una profesional médico, para gestionar tanto los datos de los pacientes como los de los médicos y corregir cualquier anomalía.
Nowadays there are around 8 million of mobile apps on Google Play, 2.2 million on the App Store and 669 000 for Windows Phone devices, being each of them of different type and offering different features. Due to this variety, it is not surprising that more medical applications that could help doctors and patients during the disease development exist. In this project has been developed a medical application for iOS devices focused on the treatment of chronic diseases and cardiovascular risk. Specifically, we focus on diabetes. On the one hand, the purpose of the app is to recommend the patient the optimal insulin dose that he or she should take in every moment based on the stored medical parameters without the need of doing any type of calculation. On the other hand, the doctor could monitor all his or her patients, being able to access to the medical information of each one simply and intuitively. In order to guarantee the data correction, there is also a user, who ideally should be a medical professional, to manage both patient and medical data and to correct any anomalies.
Description
Trabajo de Fin de Grado, Universidad Complutense, Facultad de Informática, Departamento de Arquitectura de Computadores y Automática, Curso 2017/2018