Publication:
La redefinición del papel de la empresa en la sociedad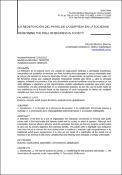 Authors
Advisors (or tutors)
Editors
Publisher
Asociación Castellano-manchega de Sociología
Abstract
La definición de la empresa como una unidad de organización dedicada a actividades industriales, mercantiles o de prestación de servicios con fines lucrativos lleva aparejado el vínculo indisoluble entre la misma y la sociedad en la que se desarrolla. Si bien, tal connotación no permite entrever cuales son las funciones anexas que cualquier proyecto empresarial necesita para llevar a cabo su principal objetivo, el beneficio económico. Este artículo pretende poner de manifiesto cómo las empresas se han visto obligadas a adentrarse en los requerimientos sociales actualmente existentes para poder seguir manteniendo una alta competitividad en sus tradicionales espacios. Es por ello, que se puede hablar de una redefinición en la función social de las empresas al verse enriquecida la misma con múltiples variables que hasta hace poco eran anecdóticas o simplemente impensables.
A definition of the firm as a unit of organization for industrial, commercial or services with profit carries with it the inextricable link between itself and the society in which it operates. Although such connotation does not allow to glimpse what the associated functions are that any business project needs to carry out its primary objective, the economic benefit. This article aims to highlight how companies have been forced to venture into the existing order to continue to maintain high competitiveness in its traditional social space requirements. It is why we can speak of a redefinition of the social role of business to be enriched it with many variables that until recently were anecdotal or simply unthinkable.
Collections