Publication:
Astronomía amateur 5.0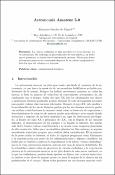 Authors
Advisors (or tutors)
Editors
Abstract
La ciencia ciudadana es algo novedoso en otras ciencias, no en astronomía. Sin embargo, la generalización de esta práctica, ha hecho que se potencien las iniciativas de astronomía amateur. Ahora para hacer astronomía amateur no es necesario disponer de un costoso equipamiento. Solo los ojos del voluntario e internet.
Description
Congreso Estatal de Astronomía (21.2014. Granada, España)
Citation
Lintott, C. J., Schawinski, K., Slosar, A., Land, K., Bamford, S., Thomas, D., Vandenberg, J., "Galaxy Zoo: morphologies derived from visual inspection of galaxies from the Sloan Digital Sky Survey". Monthly Notices of the Royal Astronomical Society, 389(3), 1179-1189, 2008. Zamorano, J., de Miguel, A. S., Pascual, S., Castaño, J. G., Ramírez, P., Challupner, P. "ISS nocturnal images as a scientific tool against Light Pollution". LICA report, April 2011. XXI Congreso Estatal de Astronomía 111 Sánchez de Miguel, A., Castaño, J. G, Zamorano, J., "Image classification of night time images detected from the International Space Station". Citizen Cyberscience Summit : Feb 20 - 22, 2014 London. Ivezic, Z., Alejandro Martinez, S., Antoranz Fernandez, D., Aranzabe, A., Arques Perpiñan, J. R., Baamonde Alvarez, S., Sixto Perez, A. J. Minor Planet Observations (645 Apache Point–Sloan Digital Sky Survey). Minor Planet Circulars, 76347, 2011. Web oficial de Zoouniverse: https://www.zooniverse.org/ Web oficial de del Programa de recuperación de asteroides cercanos a la tierra: http://www.laeff.cab.inta-csic.es/projects/near/main/ Web oficial de Star Counts: http://www.windows2universe.org/citizen_science/starcount/index.html Web oficial de Globe at Night: http://www.globeatnight.org/ Web official de IACO: http://iaco.es/ Web oficial NIXNOX: http://www.sea-astronomia.es/drupal/nixnox Web oficial de Loss of the Night App: http://lossofthenight.blogspot.com.es/ Web oficial de Dark Sky meter: http://www.darkskymeter.com/ Cinzano, P. (2005). "Night sky photometry with sky quality meter". ISTIL Int. Rep, 9. Zamorano Calvo, J., Sánchez de Miguel, A., Martínez Delgado, D., Alfaro Navarro, E. "Proyecto NixNox disfrutando de los cielos estrellados de España". Astronomía, (142), 36-42, 2011. Kyba, C. C., Wagner, J. M., Kuechly, H. U., Walker, C. E., Elvidge, C. D., Falchi, F., Holker, F. "Citizen science provides valuable data a for monitoring global night sky luminance". Scientific reports, 3, 2013.