Publication:
Joaquín Nin Castellanos (1879-1949) y su aportación a los retornos musicales en el contexto hispano-francés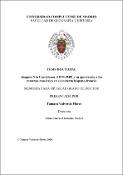 Files
Authors
Advisors (or tutors)
Editors
Publisher
Universidad Complutense de Madrid
Abstract
La presente investigación, Joaquín Nin Castellanos (1879-1949) y su aportación a los retornos musicales en el contexto hispano-francés, cubre el vacío historiográfico existente respecto a la importancia del músico cubano-español a la recuperación del pasado musical a través de su pensamiento y su práctica. Nin realizó una lectura de la historia que tuvo una gran repercusión en su época a diferencia de la que se le ha reconocido hasta ahora, debido a su diversificada labor como musicógrafo, intérprete y compositor. Si bien se ha estudiado recientemente su faceta como creador, además de la realización de la primera biografía del músico, su pensamiento y su labor como intérprete aún están pendientes de un estudio detallado. La cuestión es de especial trascendencia dado que sus ideas novedosas sobre el pasado musical han tenido una importante continuidad en la historiografía hasta épocas recientes. Nin se muestra como una figura distinguida y original, puesto que a su importante labor interpretativa al piano unió una actividad de investigación musicológica de gran calado. Esta dualidad de vertientes lo diferencia de la gran mayoría de intérpretes de su época, como Blanche Selva o Ricardo Viñes, quienes fueron grandes y reconocidos pianistas, pero no desarrollaron su faceta como intelectuales. Este perfil de músico-erudito a su vez lo asemeja a Wanda Landowska, cuyas posturas crecieron rivalizadas desde sus inicios, sin embargo presentan numerosas semejanzas. Es en esta combinación de actividades donde radica una de las principales particularidades del músico cubano-español, cuyas formulaciones punteras nos permiten reivindicar su entrada tanto en los discursos musicológicos como en los debates sobre interpretación. Nin construyó una imagen del pasado musical derivada de la confluencia de dos ambientes musicales, España y Francia. Por una parte, se mostró heredero de la historiografía musical española y continuador de los postulados de Felipe Pedrell, en particular la importancia que concedía el musicólogo al nacionalismo de los siglos XVI y XVIII y la necesidad de su divulgación. Nin fue pionero en la incorporación de la música antigua de tecla española en los debates europeos. No obstante, demostró una visión aperturista de la historia al considerar el estudio de otras escuelas de tecla europeas, cuyo resultado fue un mapa geográfica y cronológicamente más completo de la música antigua. Pese a cultivar un interés y ser defensor del patrimonio hispano, Joaquín Nin reveló una amplitud de miras que iba más allá de la exclusividad patriótica, una visión preferencial pero no exclusivista que lo apartó y lo enfrentó a numerosos intelectuales españoles que siguieron una línea nacionalista tan en boga en la época...
This research, Joaquín Nin Castellanos (1879-1949) and his contribution to the musical returns in the Spanish-French context, fills the historiographical gap regarding the importance of the Cuban-Spanish musician to Early keyboard music revival through his thought and practice. Nin's interpretation of history had a significant repercussion on his environment but he has not received proper historiographical recognition possibly because of his multifaceted profile as a musicologist, performer and composer. Although several recent projects have analysed his work as a composer, and produced the first complete biography of the musician, Nin's way of thinking and his performances have yet to be studied. This subject is undeniably important as his original ideas about the musical past have remained to the present day. Nin was an original and leading figure in the early music revival given that he combined musicological research of great importance with his career as a pianist. This dual facet distinguishes him from the majority of performers of his time, such as Blanche Selva and Ricardo Viñes, who were brilliant and renowned pianists but not scholars. His profile closely resembles that of Wanda Landowska, with whom Nin competed throughout his career despite the musician-scholars' numerous similarities. It is in this dual role as musician and scholar where we see the Cuban-Spanish musician's contribution to both musicological discourses and debates about performance. Nin drew from the musical contexts of both Spain and France to create an image of the musical past. On the one hand, he inherited Spanish musical historiography and also continued to promote Felipe Pedrell's ideas. In particular, Nin agreed with the musicologist that the nationalism of the 16th and 18th centuries was important and needed to be disseminated. Nin pioneered the incorporation of the Spanish keyboard into debates on early music. However, he demonstrated an open-minded approach by considering the study of other European keyboard schools. The result was a geographically and chronologically more complete map of early keyboard music. Despite pursuing an interest in and being an advocate for Spanish heritage, Joaquín Nin revealed an attitude that went beyond patriotic exclusivity. His preferential but not exclusive vision set him apart from numerous Spanish intellectuals who continued to propagate the nationalistic rhetoric in vogue at the time...
Description
Tesis inédita de la Universidad Complutense de Madrid, Facultad de Geografía e Historia, Departamento de Musicología, leída el 05-05-2020
Collections