Publication:
Altered Redox State in Whole Blood Cells from Patients with Mild Cognitive Impairment and Alzheimer's Disease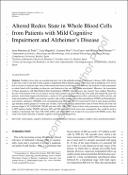 Advisors (or tutors)
Editors
Abstract
Oxidative stress plays an essential and early role in the pathophysiology of Alzheimer's disease (AD). Alterations in the redox state in AD and in mild cognitive impairment (MCI) patients appear in the brain and at peripheral level. Given that it is easier to study the latter, most of the research has been focused on plasma. However, the analysis of redox parameters in whole blood cells (including erythrocytes and leukocytes) has not really been investigated. Moreover, the association of these parameters with Mini-Mental State Examination (MMSE) clinical scores, has scarcely been studied. Therefore, the aim of the present work was to analyze several redox markers in whole blood cells from male and female MCI and AD patients. Antioxidant (superoxide dismutase, catalase (CAT), glutathione peroxidase (GPx), and reductase (GR) activities, and reduced glutathione (GSH) concentration) together with oxidant parameters (oxidized glutathione (GSSG) and thiobarbituric acid-reactive substances (TBARS)) were investigated using MCI and AD (10 women and 10 men in each group) and their age-matched control groups (15 women and 15 men). The results show an altered redox state in whole blood cells from AD patients (higher CAT, GSSG/GSH, TBARS and lower GPx, GR, GSH). Some of these redox parameters are already affected in MCI patients (higher TBARS and lower GPx and GR activities) in both sexes and, consequently, they could be used as markers of prodromal AD. Since GR, GSH, GSSG, and GSSG/GSH were found to be associated with MMSE scores, they seem to be useful clinically to monitor cognitive decline in AD progression.
Uno de los objetivos más importantes en las investigaciones sobre la enfermedad de Alzheimer (EA), la patología neurodegenerativa más frecuentes en nuestra sociedad actual y aún sin un tratamiento efectivo, es el conseguir marcadores periféricos prodrómicos de la enfermedad. Nuestro grupo ya había propuesto en trabajos previos que los pacientes con EA presentaban varios parámetros de función y especialmente de estado redox de las células inmunitarias de sangre periférica que podían utilizarse como marcadores del desarrollo de la enfermedad. El objetivo del presente trabajo ha sido estudiar, en una muestra de fácil utilización en clínica, como es la sangre total de hombres y mujeres con deterioro cognitivo leve (DCL) y con EA, comparando con controles sanos de edades similares, una serie de parámetros de estrés oxidativo para poder detectar posibles marcadores tempranos de esta patología. Los resultados demuestran que varios de esos parámetros de estrés oxidativo que están específicamente alterados en personas con DCL, podrían servir como marcadores prodrómicos de la enfermedad. Además, otros parámetros aparecen afectados en personas con EA, y se correlacionan con las puntuaciones obtenidas en el Minimental, por lo que detectarían el deterioro cognitivo en el progreso de la enfermedad.
Collections