Publication:
Origen y caracterización de los linfocitos TCR-αβ+CD4-CD8-doble negativos en relación a su posible naturaleza autorreactiva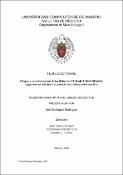 Files
Authors
Advisors (or tutors)
George C. Tsokos, George C.
Editors
Publisher
Universidad Complutense de Madrid
Abstract
Las enfermedades autoinmunes como el lupus eritematoso sistémico (LES), el síndrome de Sjögren (SS) o el síndrome linfoproliferativo autoinmune (SLPA) se caracterizan por la presencia en sangre periférica de una proporción anormalmente elevada de linfocitos T carentes de CD4 y CD8 (TCR-αβ+CD4−CD8−; a partir de ahora referidos como doble negativos, DN). Estas células también forman parte de los infiltrados leucocitarios observados en los órganos diana de las respectivas enfermedades. Asimismo, modelos murinos asociados a estas enfermedades presentan un incremento de una población de linfocitos T fenotípicamente similar. En ambos casos estas células T presentan propiedades proinflamatorias pero se desconoce si desempeñan un papel importante en la etiología y patología de las enfermedades autoinmunes. Varias evidencias sugieren que estos linfocitos pueden representar células T autorreactivas en dichas enfermedades y que podrían derivar de células T CD8+ previamente activadas. Esta población también ha sido asociada con una función supresora como células T reguladoras. No obstante, en condiciones fisiológicas, esto es, en individuos sanos, donde estos linfocitos pueden observarse como una fracción nimia de las células T, se ignora cuál es el origen y naturaleza de estos linfocitos T DN. Objetivos: Con base a lo anterior, nuestro objetivo en este trabajo fue investigar el carácter autorreactivo de las células T DN en modelos murinos, prestando especial atención a su ontogenia a partir de linfocitos T activados, expresión de moléculas y marcadores que puedan definir subpoblaciones celulares, y sus propiedades pro- o anti-inflamatorias...
Autoimmune diseases such as systemic lupus erythematosus (SLE), Sjögren's syndrome or autoimmune lymphoproliferative syndrome (ALPS) are characterized by the presence of an abnormally increased proportion of T lymphocytes lacking CD4 and CD8 expression (TCR-αβ+CD4−CD8−; henceforth called double negative, DN) in peripheral blood. DN T cells can be found also infiltrating the target organs affected in each of these diseases. Likewise, murine models emulating these syndromes show a higher percentage of a phenotypically similar T lymphocyte subset. In both cases, these T cells display proinflammatory properties but it is unclear whether they play an important role in the onset and pathology of autoimmunity. Several lines of evidence suggest that these lymphocytes may be self-reactive T cells increased in these autoimmune conditions and that they may derive from CD8+ T lymphocytes that have been previously activated. Such population has been also ascribed a suppressor function as regulatory T cells. However, in homeostasis, this is, in healthy individuals, where these lymphocytes represent a small fraction of total peripheral T cells, the origin and the cellular nature of DN T lymphocytes still needs to be characterized in depth. Aims: Based on this, the main aim of this dissertation was to investigate the self-reactive condition of DN T cells in murine models, with special regards to their ontogeny from activated T lymphocytes, expression of molecules and markers that can define cell subsets, and their anti- or pro-inflammatory properties...
Description
Tesis inédita de la Universidad Complutense de Madrid, Facultad de Medicina, Departamento de Microbiología I, leída el 21-04-2017.
Collections