Publication:
Estudio del comportamiento de mostazas de azufre pesadas frente a descontaminantes comerciales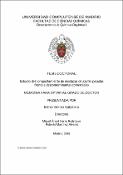 Files
Authors
Advisors (or tutors)
Editors
Publisher
Universidad Complutense de Madrid
Abstract
Los objetivos de esta Tesis Doctoral han sido la evaluación de la eficacia de descontaminantes comerciales frente a mostazas de azufre pesadas, el desarrollo de métodos de tratamiento de muestras y análisis para evaluar la eficacia de los distintos descontaminantes mediante cromatografía de gases y la caracterización de los productos de degradación mayoritarios mediante espectrometría de masas.En todos los casos, las mostazas de azufre pesadas se han preparado y utilizado sin ulterior purificación con objeto de simular un escenario real. La presencia de productos secundarios en el medio descontaminante podría utilizarse como "señuelos o indicadores" (huella química) para casos de estudios forenses como consecuencia de un atentado y así poder identificar el origen del agresivo químico en base a la metodología de síntesis empleada. La pureza de las mostazas de azufre pesadas ha sido, en todos los casos, superior al 75%.Los datos experimentales obtenidos en esta memoria de tesis, permiten concluir que la eficacia del proceso de descontaminación depende de la naturaleza del descontaminante, (base orgánica o acuosa) y de la longitud de la cadena alifática de la mostaza de azufre pesada. La solubilidad de los agresivos de guerra química (CWA) en el medio descontaminante es un factor crítico para la eficacia del proceso de descontaminación. En todos los casos, los descontaminantes de base orgánica (DS2, GD5, GD6 y GDS2000) han sido más eficaces que los descontaminantes de base acuosa (RM21, RM31, RM3..
This Doctoral Thesis pursues the evaluation of the efficiency of commercial decontaminants against heavy sulfur mustards, the development of procedures for sample preparation to accomplish the analyses of the product contained in the matrices derived from the decontaminating agents using GC-based techniques, and, finally the characterization of the main degradation products derived from the decontamination reactions using mass spectrometry techniques.In all cases, the heavy mustards were prepared and used without further purification to mimic a real scenario. The presence of by-products in the decontamination reactions of the unpurified vesicants could be used then as fingerprints in a forensic investigation. The identification of these chemicals could establish, in principle, a link between the chemical agent and the terrorist group in base of the synthetic methodology performed. The purity of the heavy mustards was always above 75%.The efficiency of the decontamination process depends on the organic or aqueous nature decontaminant as well as the length of the aliphatic chain of the sulfur vesicant. The solubility of the CWA in the decontamination media is a critical factor in the efficiency of the decontamination process. In all cases, organic-base decontaminants (DS2, GD5, GD6 and GDS2000) were more efficient than water-based decontaminants (RM21, RM31, RM35, BX24, BX29 and BX40) to degrade heavy sulfur mustards...
Description
Tesis de la Universidad Complutense de Madrid, Facultad de Ciencias Químicas, Departamento de Química Orgánica I, leída el 30-06-2017
Collections