Publication:
Inteligencia ambiental en el Internet de las cosas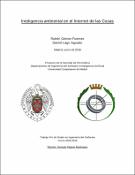 Advisors (or tutors)
Editors
Abstract
En la actualidad, existe un concepto que está cobrando especial relevancia, el cual es conocido como IoT (Internet of Things, Internet de las Cosas) [1]. En el IoT [2] se define la interconexión digital de objetos cotidianos con internet, esto significa que no sólo "los humanos" tenemos la capacidad de conectarnos a internet, sino que caminamos hacia una nueva era donde prácticamente cualquier cosa podría ser conectada a internet, desde un reloj (smartwatch), como tenemos en la actualidad, hasta una nevera, una persiana, una sartén, etc. En este proyecto se ha querido aplicar ciertas fases del IoT, para convertir una información ambiental poco sesgada, proporcionada por una pequeña estación meteorológica, en un valor adicional a la hora de tomar decisiones basadas en las variables ambientales, para determinar, según un proceso de aprendizaje automático, la sensación que una persona percibe en relación al tiempo meteorológico en un determinado momento. Para ello utilizamos una serie de sensores que se encargan de darnos la información ambiental necesaria (como la temperatura, humedad y presión atmosférica) una fuente de procesamiento como puede ser un micro-controlador, para después poder manejarla y procesarla en la nube, de forma remota, adquiriendo así el valor añadido que se espera en el IoT. Además, en este proyecto se aplican técnicas de Inteligencia Artificial para ayudar al usuario en esa toma de decisiones, mediante un proceso de entrenamiento previo, que permite obtener información relevante para aplicarla posteriormente en el contexto meteorológico mencionado. Para manejar todos estos conceptos y elementos, se hace uso de servicios Web, bases de datos, procesamiento y aprendizaje automático, integrando todos los servicios en una misma plataforma que facilite la comunicación de todos los elementos involucrados.
Currently, there is a concept that is gaining special relevance, this concept is known as IoT (Internet of Things). IoT defines digital interconnection of everyday objects to internet, this means humans will no longer be the only ones with the ability to connect to internet. We walk into a new era where anything could be virtually connected to Internet, from a clock (smartwatch), as we have today, to a refrigerator, a blind, a pan, etc. In this project we have tried to apply certain phases of IoT, to convert a bit biased environmental information, in an additional value when making decisions about environmental conditions based on individual perceptions. We use different sensors that are responsible for giving the necessary environmental information (such as temperature, humidity, or atmospheric pressure), a source of processing such as a micro-controller, and then appropriate abilities to handle and process the available information in the cloud, achieving the added value. In addition, this project applies Artificial Intelligence techniques to assist the user in decision-making through preliminary training. To handle all these things, we use Web services, databases, automated processing, integrating all those services on a single platform that facilitates communication of all these elements.
Description
Trabajo de Fin de Grado en Ingeniería Informática (Universidad Complutense, Facultad de Informática, curso 2015/2016)